We understand from first-hand experience that Halloween can be a frightening time for families coping with food allergies.
With that in mind, SnackSafely.com offers a number of resources to help you prepare. We partner with over 120 manufacturers that have agreed to provide us with allergen processing disclosures that go far beyond what the FDA requires on the label, including definitive shared line and facility information for the 11 allergens we track: the Top 8 (peanuts, tree nuts, eggs, milk, soy, wheat, fish, crustacean shellfish), sesame, mustard, and gluten.
Consider the following options to help you plan for Halloween (and year round.)
---
The Safe Snack Guide — Halloween Edition
If you need peanut, tree nut, or Top 8 allergen-free treats for trick-or-treat, switch witch, or your costume party, the Safe Snack Guide is your go-to. The current edition of the Guide featured an entire section devoted to allergy-friendly treats including halloween-themed products as well as bulk, individually wrapped candy.
Download your free copy by clicking here.
---
Custom Safe Snack Guide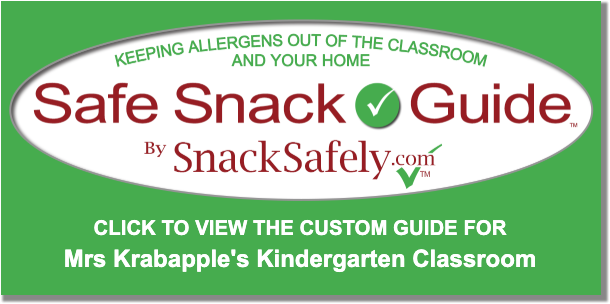 Need to accommodate allergies to other foods? Create your own customized Guide that excludes any combination of the 11 allergens we track. We make it easy to share with guests by providing you with your own custom download page and website badge.
Create your own custom Safe Snack Guide by clicking here.
---
Allergence Product Screening Service
Allergence lets you screen our database of over 2000 products by food category or manufacturer. Create profiles for each individual with food allergies in your household and Allergence will let you know when a product is suitable for all your profiles, some of your profiles, or not suitable for your family.
Profiles allow you to specify your tolerance for each allergen. Need to exclude all products where sesame is processed in the facility? Are you OK with eggs processed in the factory as long as they're not processed in the same line? Can do, because we have the inside information on how each product is manufactured and we never rely on voluntary "may contain" statements on the label.
Find out more about Allergence by clicking here.
---
And don't forget: our blog is a comprehensive destination for news and advocacy on issues of concern to the food allergy community, especially families with children. Topics we cover include progress toward treatment and a cure for food allergy; general news of interest to the community; legislation; innovations in emergency epinephrine delivery; advocacy, commentary and advice regarding safety, procedures and school policies. Visit us at SnackSafely.com.
Have No Fear, the Halloween 2019 Edition of the Safe Snack Guide is Here!