Hostess Brands recently issued the following press release warning they will begin adding peanut flour to their venerable Suzy Q's line of snack cakes next month:
Hostess Brands: Notice of Allergen Change

JANUARY 6, 2020

Hostess Brands, LLC would like you to know that all Hostess® Suzy Q's® items, in all pack sizes and configurations, manufactured on or after February 3, 2020 will contain peanut flour. Specifically, the items identified by the following universal product code (UPC) numbers:

▪ 8 88109 11299 8
▪ 8 88109 01163 5

The ingredient list and allergen statement on these snack cake items will be updated when the change is implemented. Additionally, at the time of the change, a message will be placed on the front of the pack of all impacted items to heighten awareness to the new ingredient.

Because product formulations change from time to time, consumers are strongly encouraged to read the package label prior to every purchase.

At Hostess Brands, we are committed to responsible allergen management and we care deeply about our customers and producing quality bakery products.

We welcome your comments and questions.

Consumer Contact:
(800) 483-7253
Website: HostessCakes.com
A quick look at their new ingredient label reveals that peanut flour is the second to last ingredient, meaning a very small amount will be added, too small to affect taste, texture or nutritional content: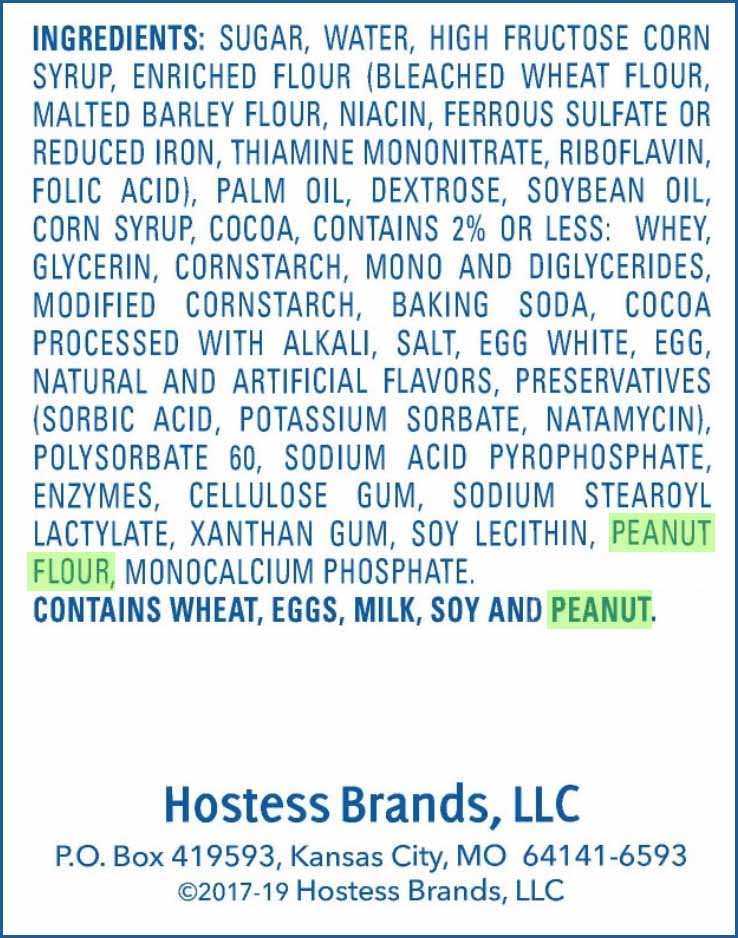 But then why add it? Hostess isn't saying, but we can guess from past experience what their motivation is.
The answer lies in regulations introduced via the Food Safety Modernization Act (FSMA) that took effect in September of 2016. The FSMA raised the prevention of allergen cross-contact to the same level of concern as prevention of food-borne pathogens and other dangers, requiring increased scrutiny and documentation on the part of manufacturers.
The directives mandate that the "Top 8 allergens" identified by FALCPA (peanuts, tree nuts, milk, eggs, wheat, soy, fish, and crustacean shellfish) must either be ingredients of the product and identified as such, or the manufacturer must take extra care (and cost) to ensure that there is no cross-contact with them.
We at SnackSafely.com speculate that Hostess is unwilling to bear the cost of ensuring there is no cross-contact with other peanut-containing products manufactured in the same facility. By adding a trace amount of peanut flour as an ingredient, the company is not bound to prevent cross-contact.
We predicted this outcome back in 2016 when Kellogg's began adding peanut flour to their Keebler and Austin product lines a few months before the FSMA took effect.
The problem with this practice is that people with peanut allergies who have been consuming Suzy Q's may not be aware of the change. They will go from a chance of peanut exposure from cross-contact to certain peanut exposure from an ingredient.
Will Hostess add a banner to the front of their Suzy Q's packaging warning of a new peanut ingredient? Let's hope.
Though the company is not a member of our Manufacturer Partnership, we urge allergic consumers to contact Hostess to better understand the potential for cross-contact before consuming their products.
Kellogg's, Unintended Consequences, and the Death of 'May Contain'