The CDC has published comprehensive guidelines for the management of food allergies in schools.
A trial has begun testing the usability and efficacy of a new web-based video game targeted at children with food allergies.
SnackSafely.com and the Safe Snack Guide were recommended as resources by the Cleveland Clinic on their "Health Hub" site.
A student at Finnvedens High School in Varnamo, Sweden was hospitalized after a peanut was placed in her drink at school.
Boxes of Utz Halloween shaped Pretzels were labeled incorrectly. The company has issued a press release clarifying the matter.
The Halloween 2013 edition of the Guide featuring an additional page of peanut, tree nut and egg-free treats perfect for trick-or-treat and nut-free classroom parties. Coupons too!
FARE has issued an advisory regarding the effect of the current partial shutdown of the Federal Government on those with food allergies.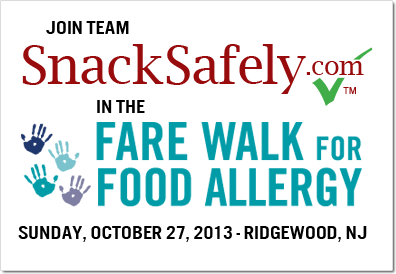 Show your love for SnackSafely.com by making a donation to the FARE Walk for Food Allergy and we'll send you a small token of our appreciation!
We at SnackSafely.com are celebrating a pair of wonderful milestones that you, our readers, have made possible.
Kids with Food Allergies Foundation (KFA) has published a guide entitled "Potential Food allergens in Preschool and School Activities".