Let's tell Kellogg's 'NO!' or face the possibility of the company adding peanut flour across more of their product line.
The highest rates occur in children four years-old and younger, but the greatest increase occurred in ages of 5–14.
A 10 year old boy from London Ontario passed due to food allergy, asthma, or both. We look at ways to prevent such tragedies from happening again.
Products that were previously relied upon as "safe" alternatives for consumers with peanut allergies will soon pose a risk of anaphylaxis to those very same consumers, many of whom are children.
Our petition fostered much discussion within the food allergy community. We answer some recurring questions and concerns.
Download all six flyers from our Take 2 Campaign and post them in your home, school and office.
We are firm believers that school nurses play an invaluable role in supporting the health and safety of our children and that every school should have access to a nurse throughout the day.
Scout's story covers many topics of importance to children and families coping with food allergies.
Cupid himself has picked a variety of sweets for that special someone with a peanut, tree nut or egg allergy.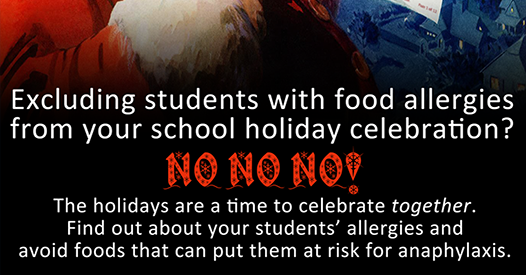 Share this full-page Santa flyer with your child's school administration and say 'No! No! No!' to exclusion!