If you are concerned about food allergies or gluten sensitivity, then you know about Enjoy Life, the #1 brand in the "Free From" category and a member of the SnackSafely.com Manufacturer Partnership Program.
Joel Warady, Chief Sales and Marketing Officer for Enjoy Life Foods, was recently interviewed for the "Gluten Free Podcast" during which he provides a candid view of the Free From sector, his work at the firm, and his own dietary concerns. To learn more about one of the principals shaping the allergy-friendly food industry, listen to this podcast.
We also appreciate Joel's shout out to SnackSafely.com and our work with schools during the podcast.
---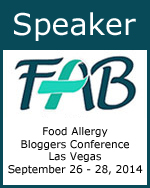 Joel, Hanson Watkins – Founder & Owner of Indie Candy, Dr. Lama Rimawi – Founder of Tasterie, and Dave Bloom – CEO of SnackSafely.com will be participating in a panel discussion entitled "Manufacturing from Start to Cart" at this year's Food Allergy Bloggers Conference this September 26-28 in Las Vegas.