We're pleased to announce four additions to the SnackSafely.com Manufacturer Partnership.
In joining us, these companies have committed to provide you with far greater transparency into their manufacturing processes via our Allergence service than is available anywhere else. They are:
Happy Family Brands – A leading premium organic baby and toddler food company founded in 2006 by moms with the goal of changing how little ones in the country are fed.
Giddy Yoyo – The company offers hand-made organic wild heirloom vegan raw dark chocolate bars and nutrient dense ethically & super selectively sourced superfoods.
INBalance Health Corp – Dedicated to providing healthy snack bar alternatives, like the INBar, that are allergen free and suitable for diabetics and everyone else.
YumEarth – Founded by two dads, YumEarth is dedicated to making delicious treats with all-natural ingredients, no artificial colors, no artificial flavors, no high fructose corn syrup, and no major allergens, such as gluten, tree nuts and dairy.
We've added over 40 new products from these companies with many more to come. To accommodate some of them, we've added two new categories to Allergence: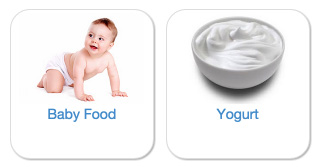 Allergence is the free service by SnackSafely.com designed for families coping with food allergies and celiac disease.  Allergence shows you how 11 allergens (peanuts, tree nuts, eggs, milk, wheat, soy, fish, shellfish, gluten, sesame and mustard) are processed during the manufacture of each product, to help you find products that meet your family's dietary restrictions. See the video below and click here for more information.