Announcing Allergence, a free service designed specifically for families coping with food allergies and celiac disease.
You've heard us write about the issue many times: Due to lax regulations, the estimated 15 million Americans suffering with food allergies can't rely on the label alone to determine whether a product is safe for them. Though manufacturers are required to disclose when each of the top eight allergens is an ingredient of a product, the FDA does not require warnings of potential cross-contamination, such as "May contain traces of peanuts" and "Manufactured in a facility that also processes sesame".  You may think a product is safe if these warnings are absent, but you can't know for sure – especially in cases where there are warnings for some allergens and not others.
Allergence bridges this "ambiguity gap" by going beyond the label to provideconsumers detailed information regarding how 11 allergens are processed during the manufacture of each product. We track the FDA's top 8 (peanuts, tree nuts, eggs, milk, soy, wheat, fish, shellfish) as well as gluten, sesame and mustard, and tell you when each is processed in the same line or facility or whether the product is explicitly marketed free of that allergen. We'll also tell you whether each product has obtained industry recognized kosher, organic, gluten-free and non-GMO certifications.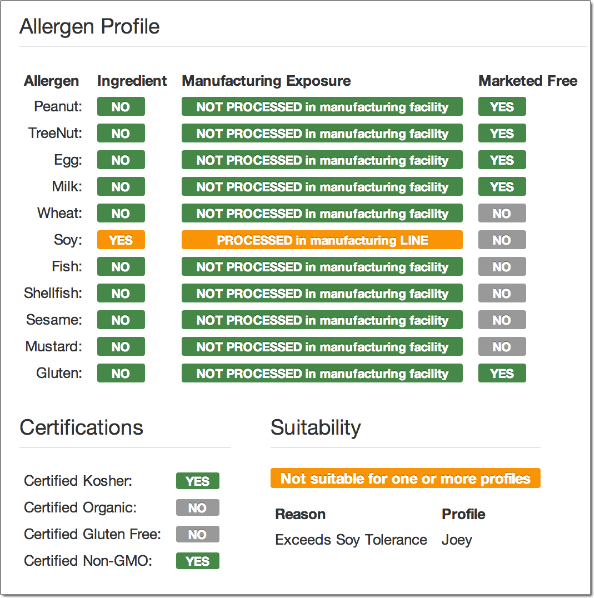 Opt to enter allergen profiles for the allergic members of your family and Allergence will advise you whether or not each product meets your stated requirements, taking much of the legwork (and guesswork) out of finding products that are suited to your family's food restrictions. (We will not share this information with third parties in keeping with our strict privacy policy!)
See this promotional video describing the service:
We're able to bring you this information because we partner directly with responsible manufacturers that are committed to complete transparency. They provide this data directly to us using our proprietary platform – the same platform we use to source our Safe Snack Guide.
Here's what Joel Warady, Chief Marketing Officer at Enjoy Life Foods has to say:
At Enjoy Life Foods, we believe we have a responsibility to be transparent. Our consumers rely on us for safe, great-tasting products that are gluten-free, free from the 8 most common food allergens, verified non-GMO and produced in a dedicated nut-free facility.

Our partnership with SnackSafely.com and listings in their Safe Snack Guide provide an effective means of reaching consumers with our message. Participation in Allergence provides yet another avenue to exercise our commitment to transparency that will help consumers find safe foods for their families.
We appreciate the leadership role Enjoy Life and our partners are taking by committing to a level of disclosure far above what the government mandates. In addition to Enjoy Life, Allergence features products from Don't Go Nuts, Gerbs Allergy Friendly, HomeFree, MadeGood, SunButter, Sweet Alexis, Utz Snacks, Vermont Nut Free Chocolates, WOWBUTTER, Zego and many others.
This is the start of a revolution that promises to change the way the food industry engages with consumers to the benefit of the food allergy community.
Click here to sign up for your free account
We encourage you to contact your favorite manufacturers and ask them to participate. Manufacturers that commit to our terms for full disclosure earn free listings in the Safe Snack Guide for all their qualifying products which are eligible for inclusion in Allergence as well.
We'll be adding many new products and features in the coming days (including coupons and offers) so stay tuned, check back often, and be sure to send us your feedback!
Click here to see the official press release.
Please note: the title of this article was changed from 30+ to 75+ as many other manufacturers have joined our Manufacturer Partnershipsince the publication of this article.