The Safe + Fair Food Company – formerly known as Skeeter Snacks – announced they will donate 3% of all proceeds to the Sean N Parker Center for Allergy and Asthma Research at Stanford University. The center was chosen due to a shared goal of improving the lives of food allergic people — and in turn, improving the lives of their families, friends, and communities.
The Sean N Parker Center aims not only to find better treatments for children and adults with allergies and asthma, but to discover underlying immune mechanisms against the diseases and develop a lasting cure.
An estimated 17 million people in the United States are coping with food allergies while recent estimates suggest that between 30 to 40 percent of the global population suffer from one or more allergic conditions. These overwhelming numbers motivate both The Safe + Fair Food Company CEO, Will Holsworth, and Director of the Sean N Parker Center for Allergy and Asthma Research, Dr Kari Nadeau, to address this growing problem.
Said Holsworth: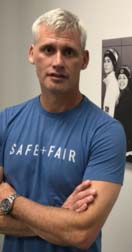 We're here because we know what it's like to be personally impacted by food allergies, and because we've seen the community of food allergic people double about every 10 years. Our mission is to help food allergic families live simpler lives, which aligns perfectly with the exceptional work Dr. Nadeau and her team are doing at the Sean N. Parker Center. Our hope is that through combined efforts, we will create significant change in the lives of the millions of people affected by food allergies.
Readers will recall that Skeeter Snacks, a member of the SnackSafely.com Manufacturer Partnership, has been rebranded The Safe + Fair Food Company with a broader, revitalized mission. Their products remain listed under the Skeeter brand in both the Safe Snack Guide and Allergence product screening service until the rebranded products hit store shelves.