You know the conundrum we live with: The prevalence of food allergy is skyrocketing at a time when we must cope with lax labeling guidelines that don't require manufacturers to disclose possible cross-contact with allergens. Consumers are forced to trust the manufacturer when warnings like "Manufactured on equipment that also processes tree nuts" do not appear on the packaging.
What we really need is an entirely new way of manufacturing products to ensure their safety from cross-contact.
We at SnackSafely.com are happy to work with innovators in the space and bring their products to the foreground with our Manufacturer Partnership. Members of the Partnership agree to disclose far more information regarding the potential for allergen cross-contact than the FDA requires, and we then disseminate this information via our publications: the Safe Snack Guide and our Allergence product screening service.

One of our most innovative manufacturers and a long-time member of our partnership is ZEGO, a San Francisco-based company that specializes in delicious fruit, chia, and seed bars, all of which are certified organic or non-GMO, gluten-free, and kosher and are free of the 11 allergens we track.
We reached out to Colleen Kavanagh, CEO of ZEGO, for a chat to discuss their approach to manufacturing and food safety. Here follows our interview with her.
---
Dave Bloom for SnackSafely.com: Thanks so much for taking the time out to speak with us, Colleen. Tell us a little about yourself.
Colleen Kavanagh: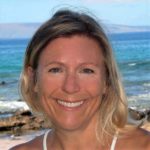 Ah, let me draw you a quick visual – as a teenager growing up in the land of Elvis, Memphis, Tennessee, I was 89 pounds and 5'3" tall with a distended starvation belly and a truly fantastic poodle perm. I broke my arm 5 times and my leg twice and used crutches much of my early teenage years. My dad was holding off suitors with a shotgun! I was diagnosed with Celiac Disease at age 15, and over the next six months I went through this hilarious repeated growth pattern of growing wide with weight and then squirting up in height. I capped off after six months, gaining a total of 30 pounds and 6 inches, and never broke another bone.
Moving into adulthood, I worked for Congressman George Miller in Washington DC and various nonprofits to improve nutrition for low-income kids through public programs like school lunch, inspired by my first-hand experience with how difficult it is to learn when you are eating foods that don't nourish you properly. I also started my own nutrition nonprofit after my husband and I had our three children.
DB: I can see how your focus on food became such a passion. How did you come to the food industry and what was your specific interest in the free-from sector?
CK: We worked for many years to convince Congress to establish nutrition standards for food sold in vending machines at public schools. The first product "big food" made to meet the new guidelines was a "brown rice krispie treat." I kid you not. I threw up my hands in despair.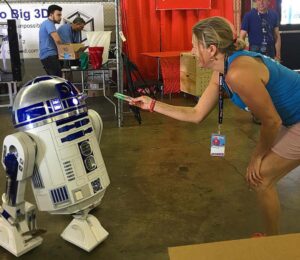 At the same time, I had a dilemma. My kids and I are celiac, dairy intolerant and have a few other food restrictions. Suddenly, our elementary school adopted a strict nut-free policy and I, along with many of our school's 250 families, discovered that not a single food company was dedicated to making superfood-based snacks we could send to school that were nut free and met our other dietary needs. So, I decided to make the kinds of products we were all seeking under a company that would raise the standard for nutrition, safety and social responsibility in packaged food across the board, not just in allergy friendly foods.
ZEGO's mission is to make delicious products that define what the ultimate "Free From" company should offer—not just free of allergens and gluten, but free from pesticides, preservatives, artificial and highly processed ingredients, and etc. We use our company to create positive social and environmental impact and are a certified B Corp. We also are working to bring allergy and gluten safety into the 21st century by changing the industry standard of using the proxy "facility statement" (for allergens) and 20 PPM (for gluten) to using actual batch-level cross contact testing and smart packaging technology to communicate test results directly to consumers; we call this our Z-CODE food safety system.

DB: So you saw a need that wasn't being met in the marketplace and set out to fill the void. Let's delve a bit deeper into how you fill that void. What procedures do you have in place to ensure your products are free of the major allergens?
CK: We start with clean recipes. It's central to our mission that we build recipes from real food, not derivates, additives or isolates that can be difficult to digest and have questionable nutritional value. We don't set out to make something that is similar to a cupcake, for example. We start with unprocessed superfood ingredients and see what delicious snacks we can make from them. This is important to food safety because short supply chains and less processing lower the risk of cross contact.
Then, we work with ingredients suppliers to find ingredients have not been packaged on the same line or facility as the top allergens and spot test ingredients for cross contact.
We even ask about how the fruit we purchase is washed, for example, particularly for our corn allergic customers. It is very difficult to find a shared facility that is free from common allergens, but our facility is actually free of the top 14 allergens, and we own our equipment, which gives us even more control because no one else is using it.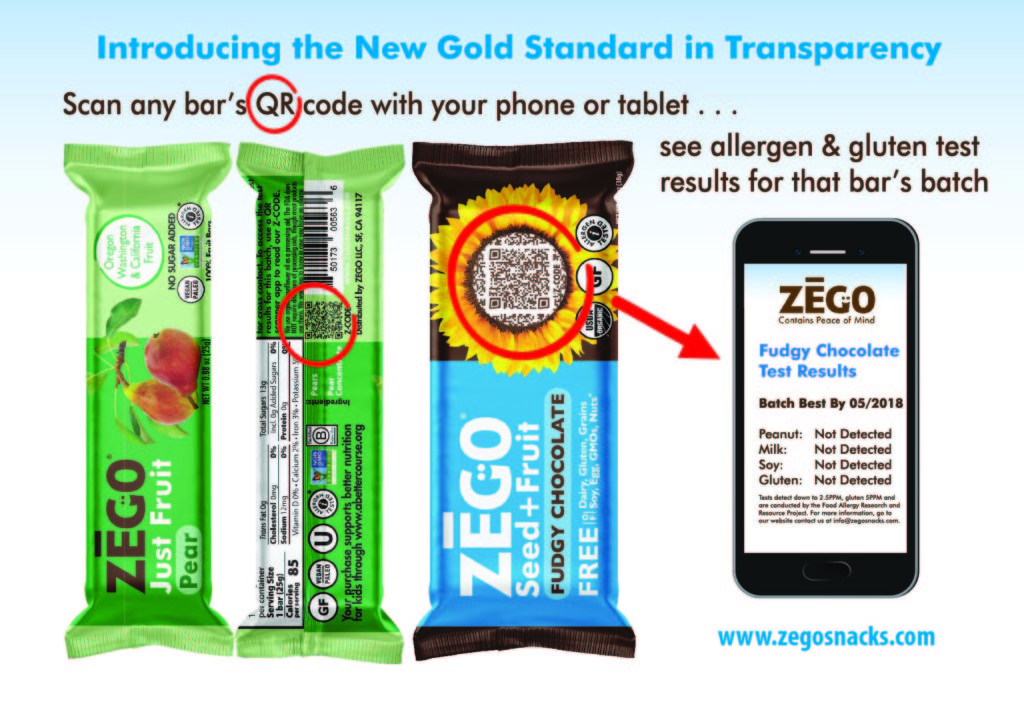 DB: Tell us about Z-CODE, the QR code on every ZEGO package. How do consumers use it and what will it tell them?
CK: We figured it was time for a food safety revolution! In a day when we can check emails on our watches, shouldn't be able to scan any product to see if has any measurable cross contact for major allergens and gluten? That's exactly what we provide with our Z-CODE food safety system and what we advocate the new industry standard will be.
Under the Z-CODE system, we test each batch of ZEGO products for cross contact with peanuts, soy, dairy and gluten at the University of Nebraska's allergy testing lab (FAARP). We limit to those foods because they are among the most common allergies, and testing for all tree nuts, for example, would be prohibitively expensive. Some tree nut tests are less reliable as well. By testing the end-product, we catch contamination that may have occurred anywhere from field to finished product and people do not have to rely on a "facility statement" as a proxy for safety.
People can access the appropriate batch test results for the product in their hand by scanning the QR code the package with their smart phone (QR code scanners are free from the app store). We also post the results on our website www.zegosnacks.com in the Food Allergen tab. Because the FAARP tests have to measure the presence of an allergen and can't measure the absence of it or amounts lower than 2.5PPM, the results will say "no measurable amount" as opposed to a zero or 1PPM. The test is a random sample with 95% confidence level. So, testing isn't a guarantee of safety, but it is much more accurate than the old standards.
DB: We love the Z-CODE concept and see it as a way of tracing the allergen safety of a product all the way back to manufacture. Are there other safety measures you take to provide customers the "Peace of Mind" promise in your tag line?
CK: Yes! ZEGO is committed to being at the forefront of the "Free From" movement and, to that end, we are one of the first companies in the U.S. testing for glyphosate pesticide residue (RoundUp). Because it is used in such quantity on farmland around the world, glyphosate is in our water system and all our food, even organic food, and sometimes in surprisingly high levels. It is suspected to cause symptoms similar to celiac disease. This has real implications for us—for example, it is why we source nearly all our fruit from Washington and Oregon and why we use Spicely organic cinnamon.
We would like all food companies to test for glyphosate residue because, just like with allergens, if you aren't testing, you don't know if you have contamination in your supply chain unless your customers are suffering from severe, obvious, traceable reactions. Working together, companies could really make a difference in the health of their customers and the planet, without any government intervention at all.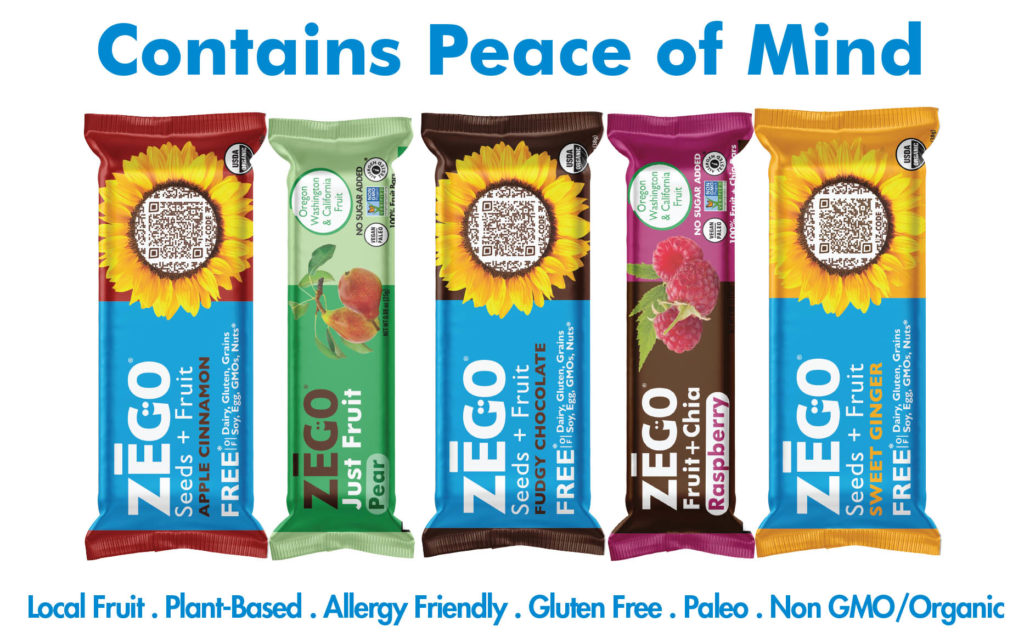 DB: We're horrified by the concept of glyphosate contamination everywhere, which is one reason we so appreciate your process.
Tell us about your current line of ZEGO products. What are you offering consumers, especially those looking for allergy-friendly products?
CK: We have several product lines to offer a variety of superfood-based snacks made without the top 14 allergens and free of gluten, corn, tapioca and grains. Many have no added sugars and most are low glycemic and are either Non-GMO or organic certified.
We currently offer:
our new "Mix-Ins", a superfood trail mix that can be used as a snack or ingredient to add taste and nutrition to your favorite cereal, yogurt or recipes (launching on Kickstarter mid-January),
a Seed+Fruit Bar for people wanting protein and a very low glycemic snack,
a 100% Just Fruit Bar (similar to a fruit roll up but more nutritious) for people needing the most simple recipes possible (one flavors has only pear in it, great for people with nickel allergies),
a Fruit+Chia Bar for those looking for delicious fruit flavor with omega 3s and a nice crunch.
We have two new products coming out in 2018 as well, so stay tuned!
DB: I had the opportunity to taste them all at this year's Food Allergy Blogger's Conference… they're delicious and my daughters love them, especially the Just Fruit Bars.
Why did you decide to take ZEGO coconut-free?
CK: Ah coconut, I'm so sad to leave you. But, as much as I like to challenge convention and move in the right direction despite where everyone else is, I simply could not fight the FDA at this time. We all know that the FDA misclassified coconut as a tree nut and that coconut is a very nutritious food for many allergy sufferers who are already incredibly restricted in the foods they can eat. To change the tree nut definition though, requires an act of Congress. Even if we could get the FDA on board, there simply is not vehicle for moving this type of change going through Congress anytime soon. I still hope to change this in the long run, but for now, to be "Top 8 allergen free," we needed to eliminate coconut.
DB: We're happy ZEGO went the coconut-free route because it allows us to feature the entire product line in the Safe Snack Guide, where we're bound by the "coconut is a tree nut" designation.
Where can consumers find ZEGO products?
CK: For most people, Amazon Prime or www.zegosnacks.com are the easiest ways. We also sell in about 300 smaller independent chains and some Safeway stores west of Denver, particularly along the West Coast (the full list is on our website). If you would like to see us in your favorite grocery, just ask the manager—they are usually very responsive to customer requests!
Here is a tip for SnackSafely.com readers—the best prices are through our website subscription options. Our website is also the only place we will launch our new products, like our new Mix-Ins. You can keep in touch with our new product launches by following us on social media @zegosnacks or signing up for our newsletter at www.zegosnacks.com.
DB: Colleen, thanks again for your time and best wishes for much success with ZEGO! Keep forging ahead with your innovations! Our community needs leaders like you to transform the industry.
CK: Thank you so much, Dave. You and SnackSafely are such an important part of our allergy community. Beyond the safety and help you provide to people with allergies, you are a wonderful partner with manufacturers. You help us be better at what we do and help us reach our customers, which I appreciate so much. Have a wonderful holiday season!
---
You can see precisely how ZEGO bars and over 1000 other products are manufactured with respect to the 11 allergens we track (peanuts, tree nuts, eggs, milk, wheat, soy, fish, crustacean shellfish, sesame, mustard, and gluten) in Allergence, our product screening service.