On Saturday, Cuisine Solutions — the company that markets Just Egg vegan egg replacement — issued a recall of one of their products:
Cuisine Solutions, Sterling, VA is initiating a voluntary recall of its JUST Egg flavored plant-based "bites" products due to undeclared allergens. A limited number of 2-pouch retail packages may contain an incorrect sealed pouch containing whole-egg and milk products. The interior plastic pouches are properly labeled to distinguish the products. People who have an allergy or severe sensitivity to milk or eggs run the risk of a serious or life-threatening allergic reaction if they consume these products.

The 8.4 oz recalled products have "Best Before" dates from FEB-22-2022 to APR-09-2022. The "Best Before" dates are on the back of the package. Approximately 80,632 retails boxes have been distributed nationwide. Only one incorrect pouch has been identified at this time and there have been no adverse reactions reported.

Cuisine Solutions is working with all distribution and retail partners to remove any potentially impacted products. Consumers may return for a full refund any incorrect packaging that contained the incorrect product to the retailer where they were purchased.

Consumers with any questions may contact Cuisine Solutions at 1-855-735-7540 from 8:00am to 5:00pm Eastern Time or Recall@cuisinesolutions.com.
Risk is right: if you consume the tainted product and have an allergy to eggs or milk, you run the risk of suffering anaphylaxis, a severe, life-threatening reaction.
But that raises a separate question: How is it that a company that manufactures vegan products mistakenly packages products containing milk and eggs?
While we don't have details regarding this particular instance, recalls involving undeclared allergens are most often due to shared lines and facilities.
Food products are often made in huge manufacturing facilities where other products are made. For larger, more established brands, the entire facility might be owned by one company, while smaller brands might be made or packaged at a co-manufacturer or co-packer that provides these services to tens or hundreds of companies on a contract basis.
In many cases, the actual manufacturing and/or packaging equipment and surfaces are shared amongst products from different lines, brands, and companies. Although the FDA mandates that procedures be in place to ensure that allergens from one product are not introduced in another —known as cross-contact— mistakes in a factory can happen and often do.
When such mistakes are reported and affect a large enough run, the company may issue a voluntary recall. The term "voluntary" is a misnomer: the company is required to issue a recall/warning or risk the FDA stepping in and doing it for them.
In this case, it appears that Just Egg products are manufactured or packaged in a facility that also makes milk and egg products. We surmise that pouches of products containing eggs and milk from another brand were mistakenly inserted into the Just Egg packaging, although we can't know for sure.
How can you tell whether a product is manufactured in a shared facility or on shared lines with your allergens of concern? Unfortunately, due to limitations in FALCPA, the regulations regarding the labeling of allergens, you CAN'T from the label alone.
While FALCPA mandates that food products containing the "Top 8" allergens (soon to be "Top 9" in 2023) as ingredients be labeled as such, warnings such as "Manufactured in a facility that also processes milk" or "May contain traces of soy" are entirely voluntary: some manufacturers include them, others do not, and still others will warn for possible cross-contact with one allergen, say peanuts, and not for another, say eggs. [To learn more about how companies decide whether to include such a warning on the label, see "When a Manufacturer Says 'Trust Us' Regarding Allergens".]
You have two options for determining whether a product is made on shared lines or in shared facilities. The first option is to contact the manufacturer's consumer department and ask, although there is no guarantee you will receive a knowledgeable and complete answer.
The other option is to use Allergence, SnackSafely.com's product screening service, which provides detailed manufacturing information not available on the label or anywhere else.
Here's an example of an Allergence listing where the user has indicated an allergy to eggs and milk: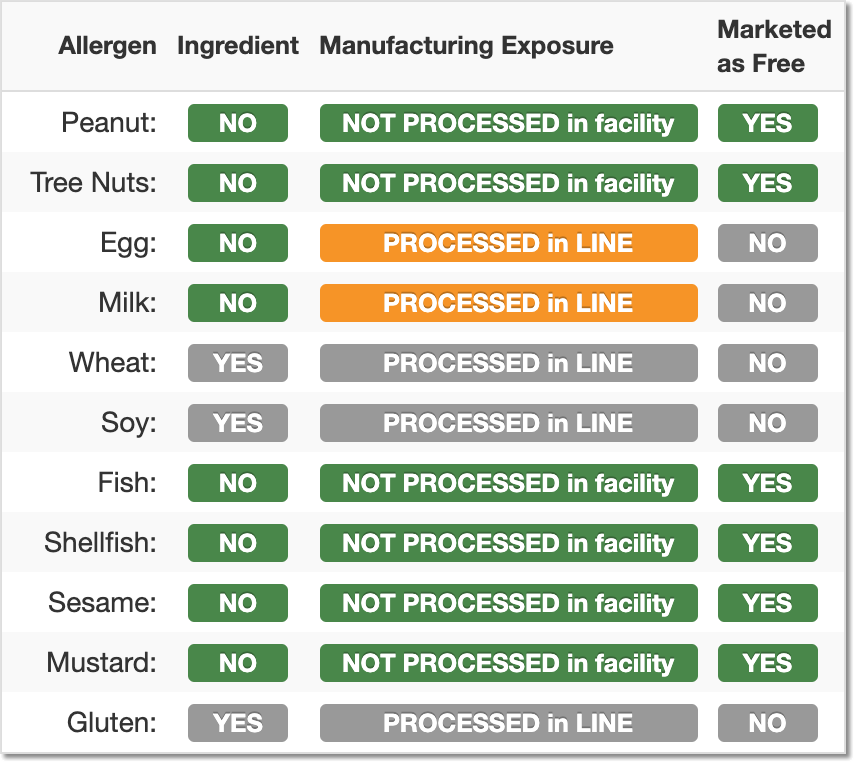 We know how each product is manufactured because we work directly with over 150 brands comprising over 2500 products. In exchange for their full disclosure, our partner manufacturers receive free listings in our family of Safe Snack Guides and Allergence.
To learn more about Allergence and sign up for your free account, click here.
"Vegan" is NOT a Reliable Indicator That a Product is Free of Milk, Eggs, Meat, Fowl, Fish, or Shellfish