Great American Cobbler LLC, based in Homerville, GA, is recalling approximately 4,272 pounds of chicken pot pie products due to misbranding and undeclared allergens, the US Department of Agriculture's Food Safety and Inspection Service (FSIS) announced today.
The problem was discovered during routine FSIS label verification activities when it was determined that soy — a "Top 8" allergen as designated by the FDA — was contained in the product but not listed on the product label. [For more information to help identify the products affected by this recall, see this statement by the USDA.]
Aside from being a very common occurrence, dig a little deeper and you'll see this recall provides an example of how the regulations that govern allergen disclosures are a disaster for the allergic community.
Based on the lot information provided by the company, the products have been on store shelves for six months before being flagged by FSIS.
Are we surprised by the news? Not at all. A quick look at Great American Cobbler's products shows that soy flour is an ingredient used in their other products.
Here's an example of their Blueberry Cobler which is not involved in the recall: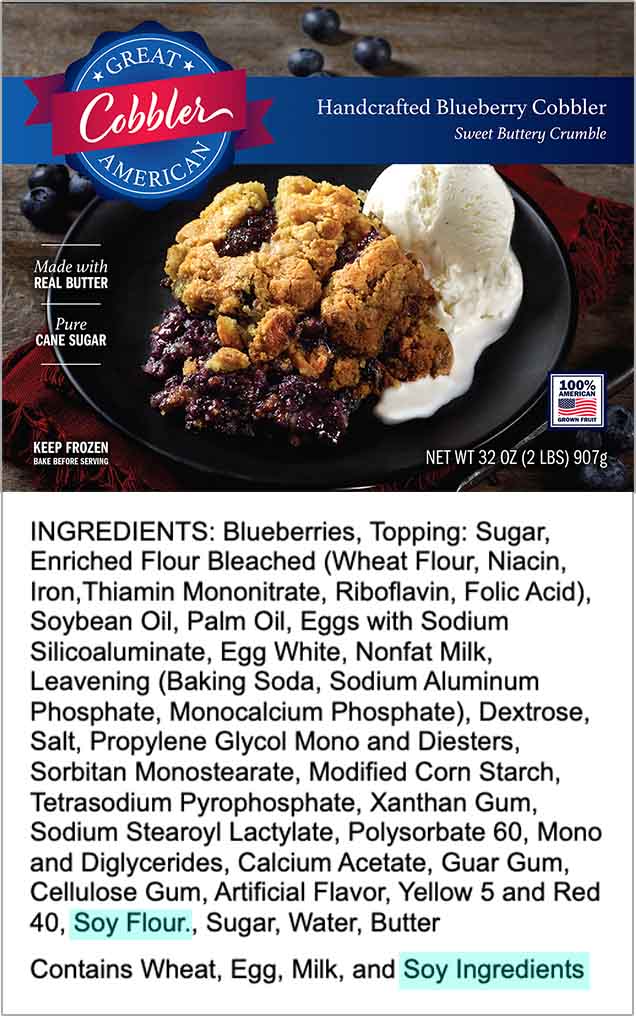 You would expect the company to include a Precautionary Allergen Labeling (PAL) statement on packages recalled for soy warning that soy is processed on the same manufacturing line or facility as the product.
You would be mistaken: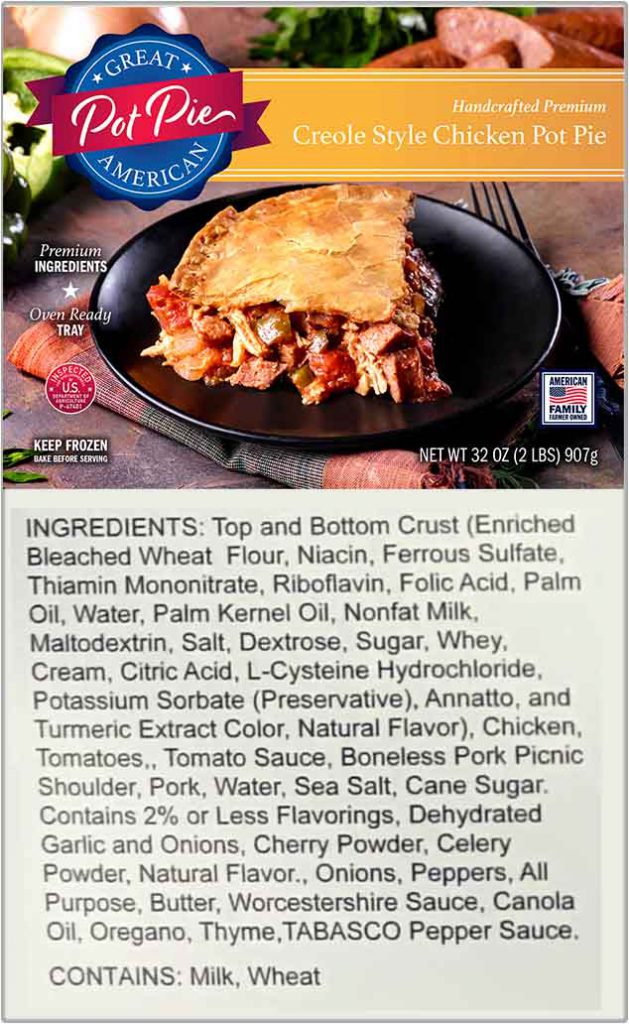 There's no indication on the label that soy is processed anywhere in the facility, so if you were concerned about the potential for cross-contact with soy — or eggs for that matter — you would have had to research the company's website or contacted them directly to find out.
But aren't manufacturers required to warn you when an allergen is processed in the same facility? The answer is a resounding "NO", those PAL statements are entirely voluntary. Some companies include them, some don't, and some will issue a precautionary warning for one allergen and not another. In fact, the FDA has nothing to say about these types of warnings leaving it entirely up to individual manufacturers to decide when and where to include them and how to word them if they are included at all.
But isn't the manufacturer required to ensure that allergens from one product do not affect another? Absolutely, but mistakes happen all the time and this one wasn't caught by the authorities for 6 months!
It's clear that allergen labeling regulations as they currently stand do not adequately protect the food allergy community. But what can you do to protect yourself and your family?
There are two things.
First, join over 9,000 others and sign the petition on Change.org demanding that allergen labeling regulations be strengthened by adding provisions to legislation already making its way through Congress. You can learn more by clicking here:
Sign and Share the Petition to Make Much Needed Changes to Allergy Labeling
We encourage you to sign the petition and ask friends, family, and co-workers to sign and share as well.
You can also research over 3000 products from 160+ responsible manufacturers to understand precisely how each product is made with respect to 11 allergens in the Allergence product screening service.
You'll see how peanuts, tree nuts, milk, eggs, soy, wheat, fish, crustacean shellfish, sesame, mustard, and gluten are processed in the line and facility for each product, information you won't find anywhere else because it comes directly from the manufacturer and is not required by the FDA.
Learn more and sign up for the free service by clicking here: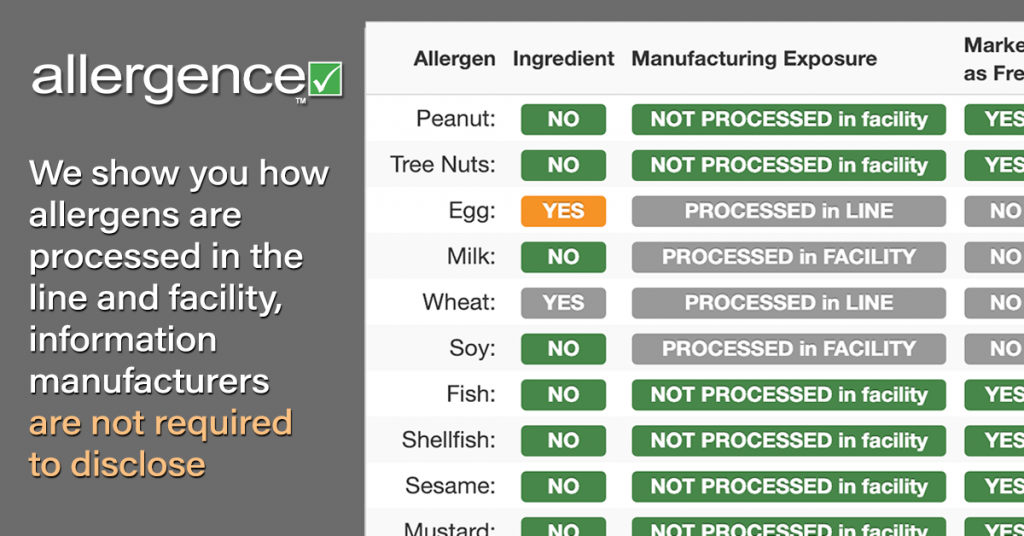 The takeaway from this recall is that you cannot rely on the label alone to warn you when there is a chance for cross-contact with your allergen of concern! You must check with the manufacturer.