I came across the Two Alpha Gals website while researching an article about Alpha-Gal Syndrome I was writing for SnackSafely.com. Then, at this past FARE Summit in October, I had the pleasure of meeting Candice Matthis and Debbie Nichols, the advocates behind Two Alpha Gals.
Not only do their stories provide insight into the disease, but their efforts at turning misfortune into advocacy are instructive for those looking for a way to share their experiences to benefit others.
Here is my interview with the Gals…
---
Dave from SnackSafely.com: Candice, Debbie, thanks so much for spending time with us! Please start by telling us a little about yourselves.
Debbie: If I'm not messing around in the kitchen, you can probably find me writing fiction, hiking, or paddle boarding with my husband and two kids. We live on a small farm in the New River Valley of Virginia where we raise sheep, chickens, and a variety of other four-legged friends.
Candice: Prior to Two Alpha Gals, I shared my love for cooking through a food blog and by hosting local cooking classes for those newly diagnosed with food allergies. When I'm not cooking, I enjoy being outdoors with my husband and three kids, whether it be on a hike or at a local Virginia winery.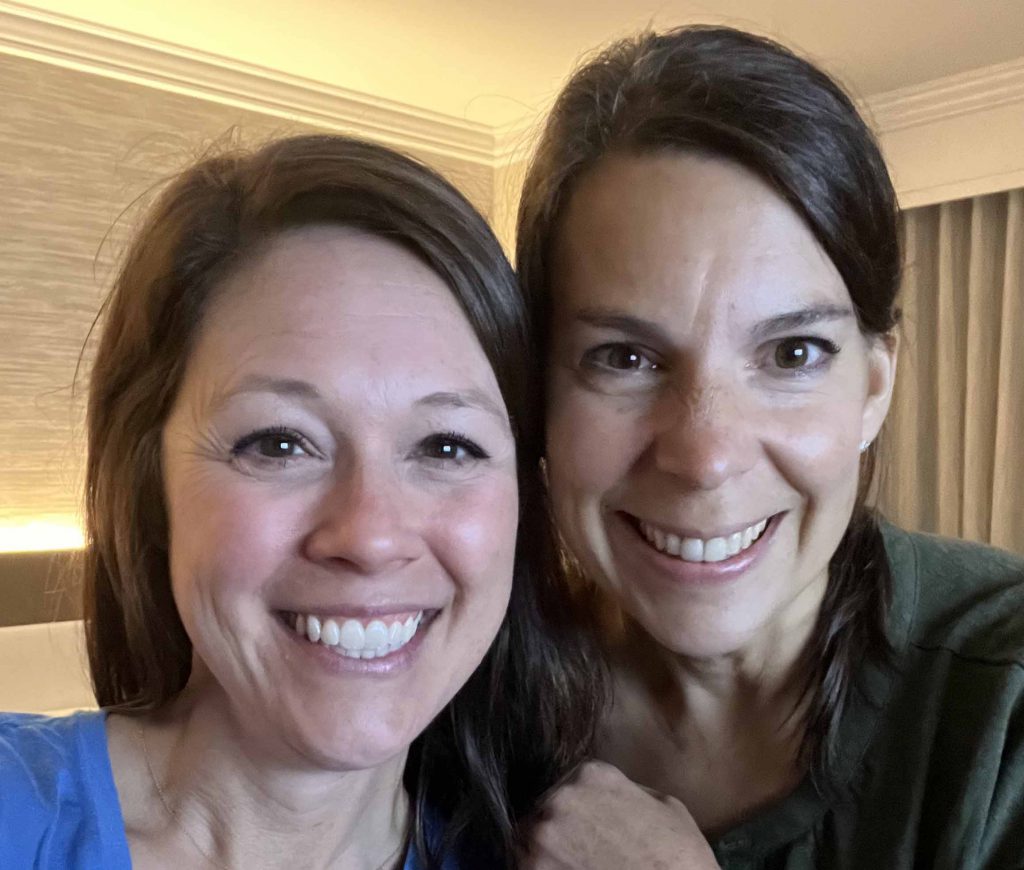 We met a little over five years ago at a mutual friend's birthday lunch. We became fast friends, which served us well when we faced our shared diagnosis only a few months later.
OK, let's start with the basics: What is Alpha Gal Syndrome, and how does one contract it?
Alpha-gal syndrome (AGS) is an allergy to galactose-α-1,3-galactose (aka "alpha-gal"), a sugar that exists in most mammals with the exception of humans and primates. Alpha-gal is found in most mammalian meat — like pork, beef, rabbit, lamb, venison, etc. — as well as products derived from mammals, including gelatin, cow's milk, and milk products (but not in fish or fowl).
In the US, it's believed that alpha-gal comes from the bite of the lone star tick. However, there are at least nine other tick species across the world that are thought to transmit alpha-gal to humans.
The incidence of AGS seems to be skyrocketing nationwide. What are the symptoms of alpha-gal and how would one come to suspect they have it?
You might suspect you have AGS if you display any of the many symptoms after consuming mammalian meat, mammalian byproducts, or coming into contact with them. The CDC lists common symptoms including:
Hives or itchy rash
Nausea or vomiting
Heartburn or indigestion
Diarrhea
Cough, shortness of breath, or difficulty breathing
Drop in blood pressure
Swelling of the lips, throat, tongue, or eyelids
Dizziness or faintness
Severe stomach pain
The delayed nature of an alpha-gal reaction makes it tricky to identify, as reactions often occur two to six hours after exposure. Waking up in the middle of the night with symptoms could be indicative of AGS.
How did you each come to be diagnosed with alpha-gal?
Candice: I was bitten by a tick in 2007. It was tiny and black, smaller than a poppy seed. Shortly thereafter, my symptoms began, and I started my journey trying to figure out why I was so sick.
I was quickly diagnosed with a wheat allergy, so every time I would get sick, I thought I was contaminated with wheat. When I became acutely ill in 2018, Debbie was one of the friends that I called on. I was waking up nightly with the room spinning and my heart racing with what I now know was anaphylaxis.
My husband couldn't stay with me all day, every day, so Debbie would come and sit with me, cook for me, and take care of me. Once I finally received my diagnosis of AGS, Debbie confided to me that she had many symptoms similar to mine.
Debbie: My symptoms started in 2007 or 2008, but I hadn't found a tick attached to me for several years prior to that, so I likely contracted AGS from a tick that I never saw. I identified my symptoms (brain fog, joint pain, GI distress), and would make appointments with specialists for help and diagnosis. But each doctor told me there was nothing wrong with me.
The symptoms continued for the next ten years. I had never heard of AGS, but I had made the connection between my GI pain and red meat. After Candice received her diagnosis in 2019, I called my immunologist and insisted on being tested for AGS. I wasn't even surprised when the test came back positive, and I suspect I've had it at least since I began noting consistent symptoms around 2007.
I'm so sorry. Not only did you suffer debilitating symptoms, but it took years for you both to be diagnosed! How has the diagnosis changed your lives and the lives of your families?
The diagnosis has impacted every part of our lives. It's much more than just the "Red Meat Allergy." It's not just beef we need to avoid, we can't have any mammalian products: beef, pork, lamb, or even dairy, not to mention "sneaky" sources in household and beauty products. It's hidden everywhere, including over-the-counter and prescription medications and wine. And the sources of ingredients containing alpha-gal don't have to be labeled.
We have had to replace nearly everything in our homes with vegan products. Additionally, AGS impacts the decisions on where we go. We are both airborne reactive on some level, so we have to avoid certain restaurants and stores to prevent a reaction.
We are so lucky that our husbands and our children are so supportive. They have become our biggest advocates and sometimes even our first responders, and this has ultimately made them even more compassionate and empathetic human beings.
They have had to give up so much with the removal of mammalian products from our households, but they enjoy the foods they miss by using designated grills outside or by choosing to order them at restaurants.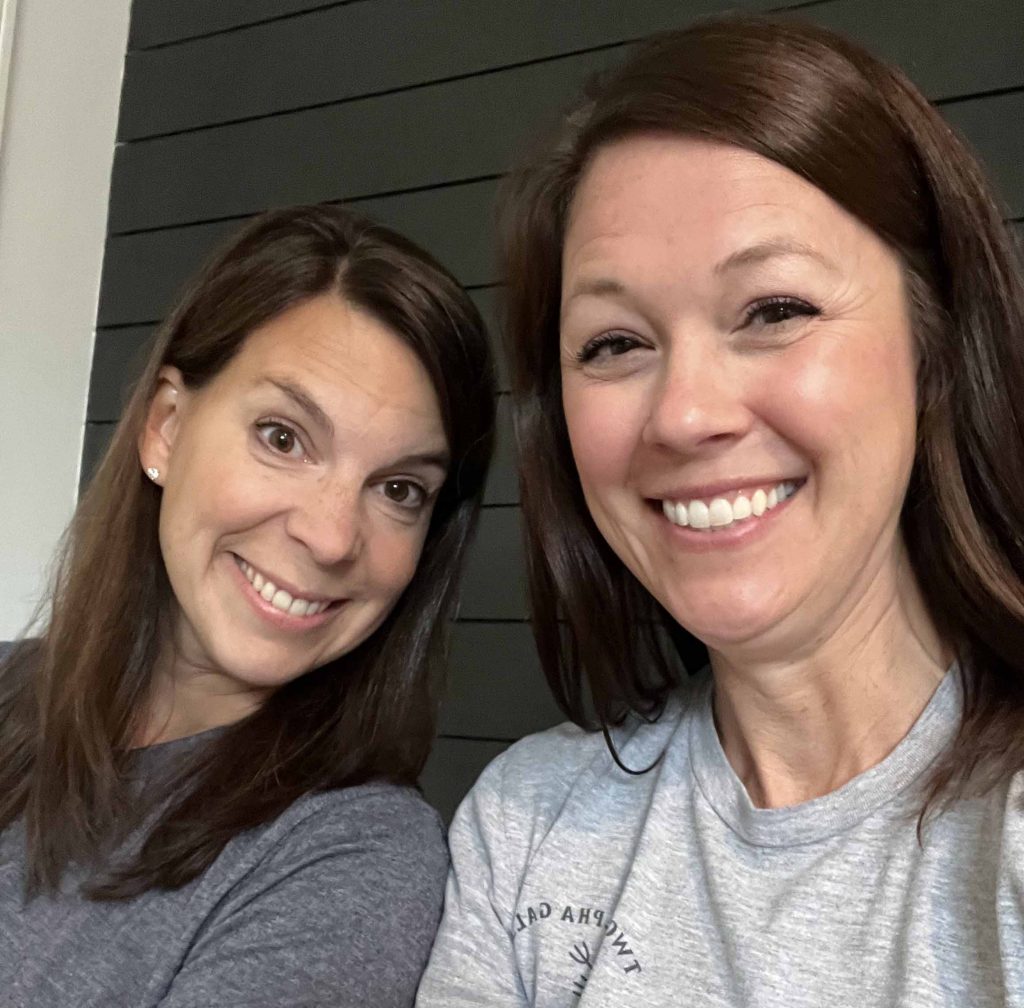 That's wonderful! Families that "get it" make life with a food allergy much easier. OK, now for the especially inspiring part: Tell us about Two Alpha Gals: what's it all about and what are your goals?
When we were both diagnosed with alpha-gal within months of each other, we realized that we were divinely brought together. We also quickly learned that living with AGS was going to be challenging with the lack of awareness and lack of available information. We decided to do something about it by sharing research and helping others diagnosed with AGS navigate this lifestyle.
Living with a food allergy is all about sacrifice, but we are self-admitted foodies, and the thought of avoiding so many of the things we love was devastating. So once we figured out how to survive, we set out to determine how to live with our diagnosis without sacrificing joy.
We also feel compelled to raise awareness of AGS. While both of us had multiple symptoms, many patients will only have one or two. There's even a strictly GI variant of AGS, and studies are showing that GI doctors who test their patients with Irritable Bowel Syndrome (IBS) for AGS find many are positive. The good news for these patients is that a change in lifestyle can bring relief!
By building and growing a community that understands that life can still be joyful and by raising awareness of AGS, we hope to help to bring relief and support to those living with this diagnosis.
Tell us what Two Alpha Gals offers in the way of support for the AGS community.
Visitors to our website and social media have access to printable resources, tips and tricks for living with AGS, and access to trusted AGS-informed professionals. We also offer a free monthly newsletter to subscribers.
Additionally, we host a podcast twice a month where we discuss our personal experiences and interview guests who share their own wisdom and stories of reinvention and resilience.
We recently launched our Food Allergy Mentorship Program which is a curated approach to navigating life with AGS and food allergies. Through our program, we provide personal education and support without the overwhelm.
What has the response to Two Alpha Gals been so far?
We are so honored by the response that we have received from those who have found us. Many of the people who reach out to us had never heard of AGS prior to diagnosis and are often scared and lonely. We hope to connect them with community, support, accurate and helpful information, and tools to navigate this lifestyle without sacrificing joy.
Here are some actual reviews:
"If you have alpha-gal this is a must-listen podcast. Debbie and Candice are engaging and informative in a lighthearted and caring way. I am so appreciative of their insights and for sharing their experiences."
"I have enjoyed every bit of the content the Two Alpha Gals have produced and look forward to what they share in the future!"
"Mainly just want to thank you so much for including truth, positivity and JOY!"
"[The Food Allergy Mentorship Program] is going to literally be a lifesaver for those people down the road that acquire this very un-fun allergy. So valuable, I was lucky to find y'all early on…you saved me from a lot of rookie pitfalls!"
"…thank you so much for sharing your experiences with me, the inexperienced. Just that simple relaying of what happened to y'all in the hotel empowered me and helped me see myself as a human just wanting to be healthy. Thank you so much from the bottom of my heart."
I'm guessing endorsements like that make all your efforts worthwhile! In closing, what would you like our readers to take away from this?
If you have been living with any of the undiagnosed symptoms above, reach out to your medical professionals to be tested for alpha-gal syndrome. Although AGS is daunting, you can achieve enormous relief through lifestyle modification.
Every person has the right to good medical care, but that often involves serving as your own advocate. Don't settle until you feel your healthcare team is fully supportive.
Although awareness is steadily growing, there is an enormous need for access to accurate information, and we are trying to provide it as quickly as possible. Our community grows every single day, and we need to work together to make our voices heard in order to impact legislation, labeling, and support.
Debbie, Candice, thanks so much for your efforts! You make the world a better place with your advocacy! I'm going to give you both the last word with your wonderful introductory video:
---
You can find Two Alpha Gals at their website twoalphagals.com, on Facebook, and on Instagram.