The Hot Cocoa Bomb craze has taken social media by storm. As soon as the first chill of autumn sets in, Hot Cocoa Bombs start flooding our newsfeeds. While this sweet has boomed in popularity and is now available in grocery chains across the country, many Hot Cocoa Bombs are produced on shared equipment with the top food allergens or contain artificial additives.
After receiving many requests from our customers, Vermont Nut Free Chocolates started working on a natural, allergy-friendly option. We are proud to share that our Hot Cocoa Bombs are now available! They are free from artificial colors and flavors and contain no GMO ingredients. They are also free of peanuts, tree nuts, coconuts, eggs, sesame, wheat, gluten, fish, and shellfish.
Making the perfect cup of hot cocoa has never been easier. Simply place one of our Hot Cocoa Bombs into a mug, pour 6-8 ounces of hot milk (or your preferred milk alternative) over it, and watch as the chocolate shell slowly melts away to reveal the hot cocoa mix and mini marshmallows inside!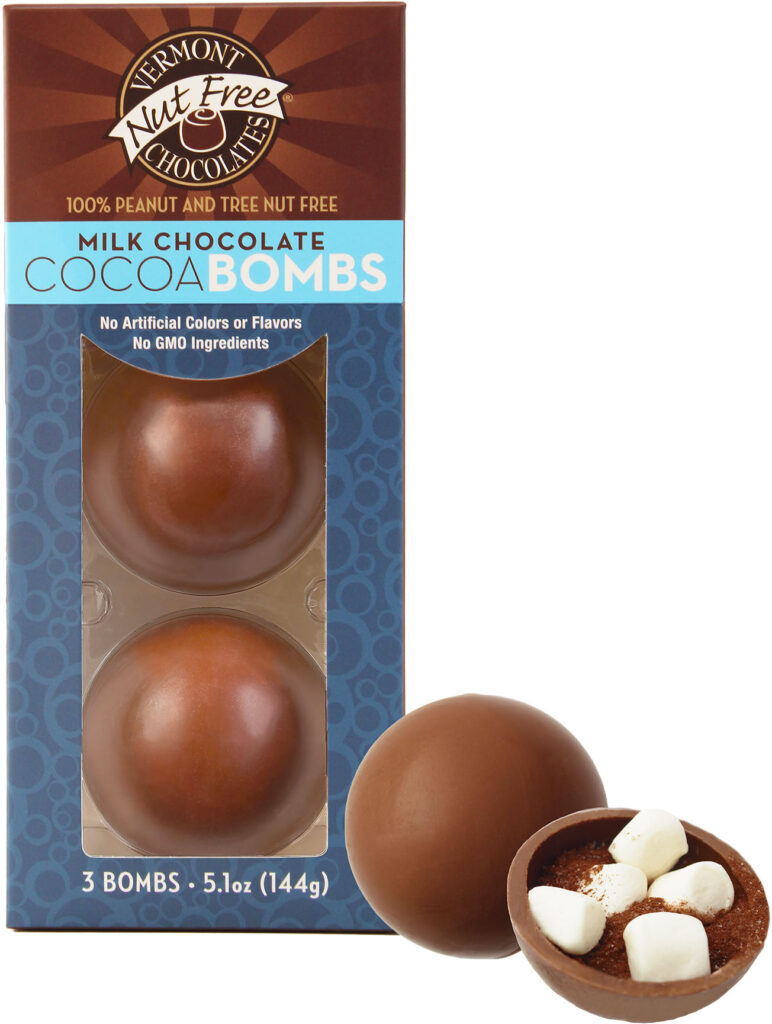 Each box contains three milk chocolate Hot Cocoa Bombs. Makes a wonderful gift during the holidays!
Join our mailing list and receive a code for 10% off your first purchase! (Find the form at the bottom of the page.)
Visit us and browse our entire catalog at vermontnutfree.com.
This article was sponsored by Vermont Nut Free Chocolates.