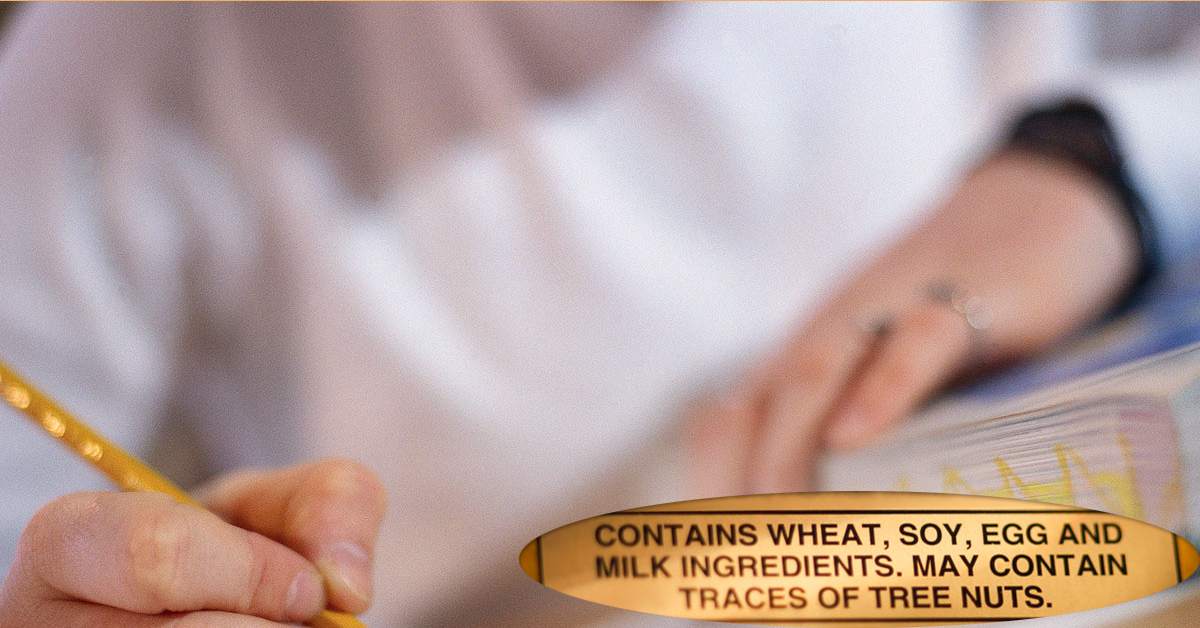 We received many questions regarding those "May contain…" type messages you find on labels after our Time article yesterday. With that in mind, here's a 10 second quiz to see how well you know what those warnings really mean:
The following are allergen warnings you might find on a product that does not contain the allergen as an ingredient. Simply put them in order of safest to most risk that the product contains traces of the allergen:

A – May contain allergen
B – Manufactured in a facility that also processes allergen
C – Manufactured on equipment that also processes allergen
D – May contain traces of allergen
E – [No statement]
You have 10 seconds. Go!

Ready for the answer? Here goes: you can't… it's a trick question.
The explanation provides insight into a major weakness of the FALCPA regulations that govern how allergens are disclosed on food products sold in the US. FALCPA requires manufacturers to disclose when any of eight allergens are ingredients of a product, but says nothing about whether and how a product must disclose the potential for cross-contact (i.e. contamination) with those allergens.
Those warnings you see can't provide any insight into the risk (or probability) that a product contains traces of an allergen because there are no guidelines for how they should be worded and when they should be used.
Likewise, the absence of such a warning does not mean the product is safe from containing traces of the allergen.
What does this all mean? If you care for someone with a severe allergy and are concerned about trace – as we feel you should be – steer clear of any product that provides a voluntary warning regardless of how it is worded. If the product does not bear a warning, your job isn't done… call the manufacturer to confirm whether and how the allergen is processed in the facility where the product is manufactured.
SnackSafely.com can help you in two ways. If you are concerned about peanuts, tree nuts and/or the Top 8 allergens, you can consult the Safe Snack Guide – our continuously updated guide to foods (not just snacks) – and stick to the items with green symbols. These items are from manufacturers that specifically market their products as free of peanuts and tree nuts (in the case of the green checkmark) or the Top 8 allergens (denoted by a green 8 symbol.)
If you are concerned with a broader array of allergens or would like a deeper understanding of how each product is manufactured, sign up for Allergence. Allergence is a free service that provides detailed processing information regarding 11 allergens (sesame, gluten, mustard and the Top 8) of products from over 45 manufacturers that have joined our Manufacturer Partnership. These firms agree to use our platform to disclose how each allergen is processed during the manufacture of each product. You can also see whether each product bears industry recognized certifications such as kosher, organic, non-GMO and gluten-free.
Here is an example of a typical Allergence listing:

Click here to register for your free Allergence account and be sure to patronize these manufacturers that have gone the extra mile to provide additional disclosures that benefit the allergic community.