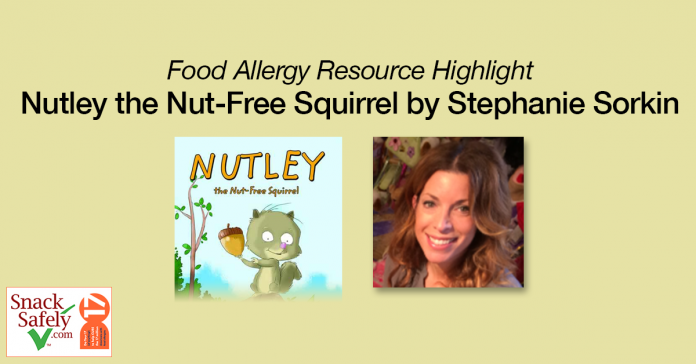 This article highlights a resource that provides inspiration and valuable services to the food allergy community. We pledged to highlight 17 such resources for End Allergies Together's 2016 #DoYour17 campaign. You can still consider sponsoring our effort with a pledge. E-A-T is underwriting all costs so 100% of your donation goes toward funding research into a cure for food allergy.
We often receive requests for recommendations of children's books that broach the subject of food allergies. When considering books for young children, there are three specific things we look for:
A narrative that provides insight into the dangers of reactions without traumatizing;
An uplifting message that removes the stigma of being different;
A storyline that can be shared with siblings, friends and classmates.
"Nutley the Nut-Free Squirrel" by Stephanie Sorkin is a whimsical story about a young squirrel that is allergic to nuts. While explaining his food allergy to his friends, he learns that others are dealing with allergies to their favorite foods as well.
Stephanie does a wonderful job of explaining the importance of avoiding trigger foods while dispelling the notion that food allergies somehow make a child different from others. It's a terrific resource that should be shared with everyone in a child's social circle and makes a great introduction to the subject of food allergies for use by school nurses and teachers.
You can learn more about Nutley and Stephanie's other books at stephaniesorkin.com.
Other food allergy resource highlights in this series: