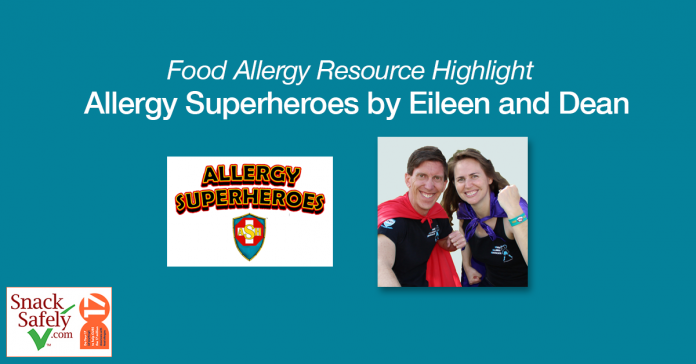 This article highlights a resource that provides inspiration and valuable services to the food allergy community. We pledged to highlight 17 such resources for End Allergies Together's 2016 #DoYour17 campaign. You can still consider sponsoring our effort with a pledge. E-A-T is underwriting all costs so 100% of your donation goes toward funding research into a cure for food allergy.
Here's our eye roll understatement of the year: There's very little fun coping with life threatening food allergies. That said, every now and then you find a site that is as enjoyable as it is informative, which is why we like Allergy Superheroes.
Aside from their business selling fun allergy gear based on their superhero and villain comic book characters, Eileen and Dean Rhoadarmer's site features a terrific blog that covers all things food allergy related, including news, recipes, lifestyle tips, opinion pieces, product reviews, and giveaways.
It's all there, written in a friendly, engaging style that makes you feel much more like you've stopped by a neighbor's house for coffee than to read the latest on keeping your family safe and well fed.
To learn more about Allergy Superheroes and their blog, visit: allergysuperheroes.com.
Other food allergy resource highlights in this series: