A new initiative announced today, No Appetite for Bullying, is intended to raise awareness about the prevalence and potential dangers of food allergy bullying. Food allergy bullying happens when children and teens living with life-threatening food allergies are teased, ridiculed, or even threatened or assaulted with food to which they are severely allergic.
No Appetite for Bullying is a multi-year anti-food allergy bullying initiative to elevate attention to food allergy bullying with the goal of creating solutions that foster tolerance and understanding. The goal is to clearly convey the potential seriousness of food allergies and create a movement that encourages children with food allergies, along with parents, teachers and peers, to be a voice against food allergy bullying. To ensure that the project is relatable to children and teens, a No Appetite for Bullying Teen Coalition will bring together students between the ages of 13 and 17 to share experiences, provide support, and discuss solutions to help end food allergy bullying. In addition, we are calling for food allergy bullying stories to be shared with us so we can help bring the issue to life.

The sponsors include Kaléo, manufacturer of the Auvi-Q epinephrine auto-injector, and four major advocacy organizations: Allergy & Asthma Network, Food Allergy & Anaphylaxis Connection Team (FAACT), Food Allergy Research & Education (FARE) and Kids with Food Allergies (KFA).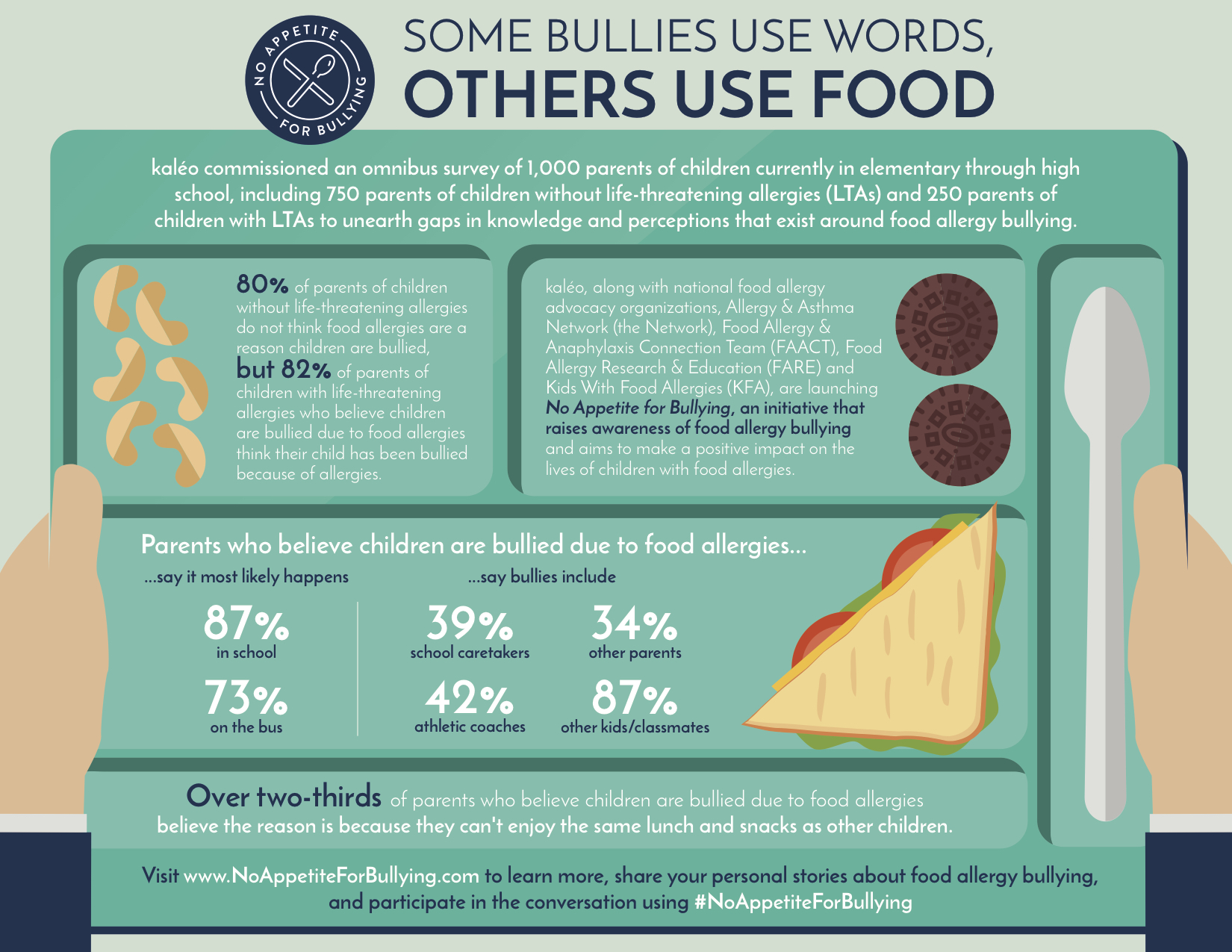 Said Eleanor Garrow-Holding, President and CEO, FAACT:
Each of our individual organizations have taken strides to end food allergy bullying. But together, we can have a bigger voice and a bigger impact on the issue. I personally have witnessed food allergy bullying as my son was bullied due to his food allergies, and its imperative we join together as there needs to be zero tolerance for bullying across the board.
Said Lynda Mitchell, Founder of KFA:
Bullying is never okay. It is hurtful, cruel, even dangerous. Unfortunately, children who live with food allergies are susceptible to bullying not only from their peers, but sometimes even from adults in their lives who dont understand the gravity of food allergies.
Kaléo commissioned a survey of 1,000 parents of children currently attending elementary through high school, including 750 parents of children without life-threatening allergies (LTAs) and 250 parents of children with LTAs to unearth gaps in knowledge and perceptions that exist around food allergy bullying. According to the survey, 82 percent of parents of children with LTAs that believe children are bullied due to food allergies think that their child has been bullied because of their allergies. However, nearly 80 percent of parents of children without LTAs surveyed indicated that they dont think food allergies are a reason children are bullied. The survey also found that nearly 9 out of 10 parents that believe children are bullied due to food allergies think that if food allergy bullying happens, kids/classmates are participating in the bullying, followed by athletic coaches (42%), school caretakers (39%), or other parents (34%).
To find out more, visit their website at
www.noappetiteforbullying.com
.