A study published today by the Murdoch Children's Research Institute in the Journal of Paediatrics and Child Health uncovered 14 cases of life-threatening anaphylaxis over a three month period suffered by individuals from unlisted ingredients in packaged foods in Australia. In half of those cases, the packages bore warnings that the product should be avoided.
The study consisted of a survey of all 548 members of the Australasian Society of Clinical Immunology and Allergy, of which there were 198 respondents.

The study concluded:
Anaphylaxis to undeclared allergens was not rare and did not appear to depend on whether the product was labelled with precautionary advice. There is currently no reliable labelling system that can inform food-allergic consumers of safer food choices. Improvements in the regulation of food labelling with PAL [precautionary allergen labeling] are required.
Professor Katie Allen, lead author of the study, stated: "The reports of anaphylactic episodes to products both with and without precautionary allergen labels is of concern. It suggests the current labelling system should be expanded to inform food-allergic consumers in safer food choices."
---
While this study was conducted in Australia, food labeling in the US suffers from similar lax disclosure requirements. Here, manufacturers are only required to warn when one of the
FALCPA "Top 8" allergens
are
ingredients
of a product,
not when there is a risk of cross-contact due to shared manufacturing lines or facilities
.
The following graphic describes the limitations of labeling in the US: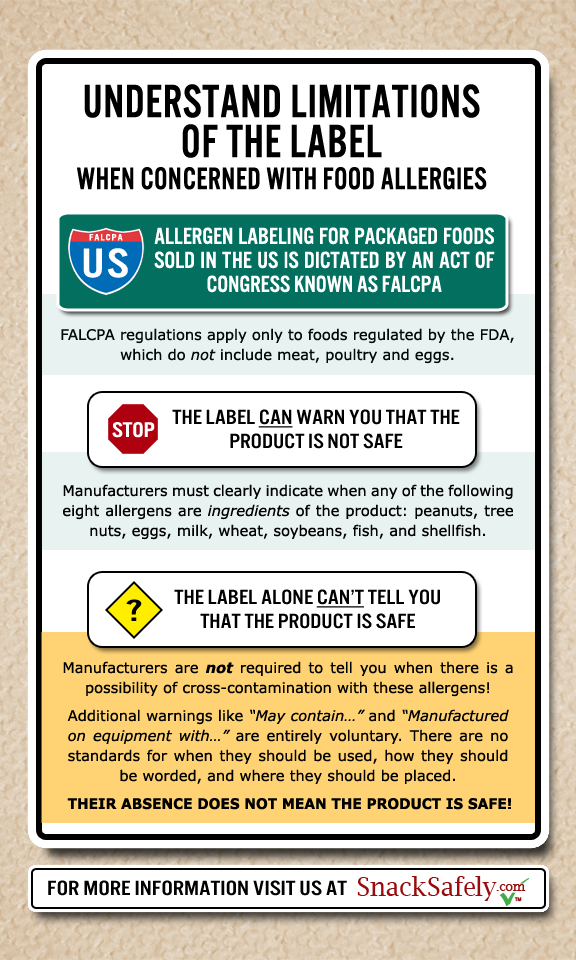 We at SnackSafely.com recognize the urgent need for a wide-scale study of packaged foods in the US to determine the level of allergen cross-contact in products with and without voluntary warning statements.
We also urge the Food and Drug Administration to adopt more stringent, mandatory labeling requirements to better inform consumers of the possibility of allergen cross-contact due to shared lines and facilities.
For more information on how manufacturers decide whether to include voluntary allergen warnings on their labels, see
When a Manufacturer Says 'Trust Us' Regarding Allergens
.