December 12, 2018
Article Citation
Gupta RS, Warren CM, Smith BM, et al. The Public Health Impact of Parent-Reported Childhood Food Allergies in the United States. Pediatrics. 2018;142:e20181235.
First Dose
Childhood food allergy (FA) is potentially life-threatening, and the prevalence may be growing. In this nationally representative household survey, parents were asked about their children's food allergies, health care, and possession of an epinephrine auto-injector. In a sample of 38,408 children, the estimated population prevalence of "convincing" FA (ie, not oral allergy syndrome or food intolerance) among children in the US was 7.6% (95% CI: 7.1-8.1), with 40% of children with any FA reporting 2 or more FAs. Peanut (2.2%) and milk (1.9%) allergies were the most common food-specific FAs.

Key Points to Remember
Among children with FAs, the 10 most common food-specific allergies were to:
peanut (29.0%)
milk (25.4%)
shrimp (12.6%)
egg (11.9%)
almond (8.7%)
cashew (8.6%)
mollusk (8.3%)
walnut (8.3%)
crab (8.2%)
pecan (7.9%)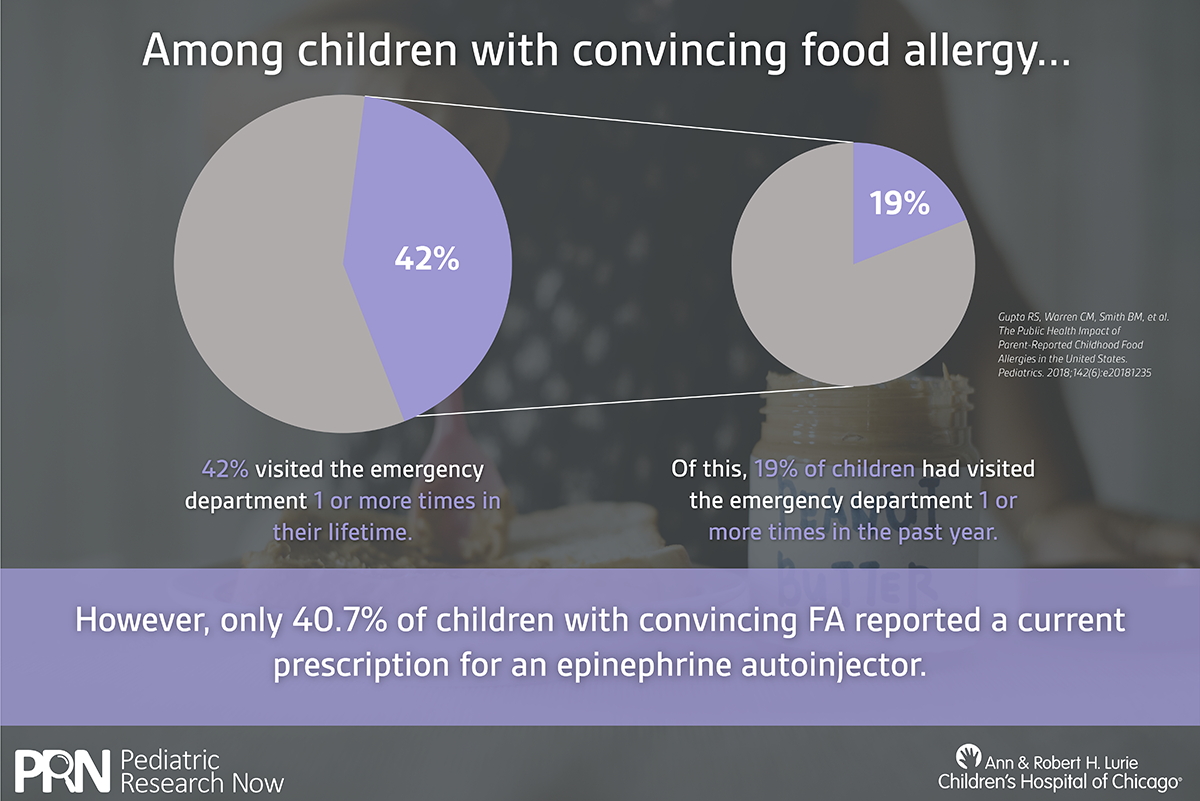 Among children with convincing FA, 42.3% were estimated to have symptoms indicating severe FA, which was more common among children allergic to peanut, tree nut, and shellfish.
Among children with FA, 42.0% had been treated in the ED for a severe FA reaction sometime in their lives, but only 40.7% of children with FA reported having a current prescription for an epinephrine auto-injector.
In regression models adjusted for children's sociodemographic variables, non-Hispanic African American children had significantly higher adjusted odds of FA than non-Hispanic white children (odds ratio=1.4; 95% CI 1.1-1.7).

Children who had physician-diagnosed conditions including asthma, atopic dermatitis/eczema, allergic rhinitis, insect sting allergy, or medication allergy also had significantly higher odds of having a convincing FA.
Possessing a current epinephrine auto-injector prescription was associated with having 1 or more physician-diagnosed FAs, having had 1 more lifetime ED visits for FA reaction, having 1 or more severe FAs, living in the Northeast (versus Midwest), and having a FA to peanut or pistachio.
Link to Research Article
http://pediatrics.aappublications.org/content/142/6/e20181235
Summary Author
Matthew M. Davis, MD, MAPP