At YumEarth we're so lucky to be able to team up with allergy-friendly moms like Diva of Food Allergy Diva, to bring fun and safe Halloween activities for all. Check out some cute ideas to use YumEarth Halloween candy for school parties and more!
---
From the Food Allergy Diva…
I can't believe it's already October! As a mom, Halloween is one of the best holidays to celebrate, but as a food allergy mom, it's also one of the scariest! Every year, I find myself having anxiety about what type of candy is going to be at the school party, and whether my child will be able to enjoy it.
Luckily, companies like YumEarth can help ease my stress. YumEarth is especially great to have around since many schools only let students bring in pre-packaged snacks. That's why I'm so excited to team up with YumEarth to bring you these fun allergy-friendly Halloween treats for school parties and more!
Ghost Lollipops
These coffee filter ghost pops are so easy that the kids can make them all by themselves! They make a great classroom Halloween treat with sealed, store-bought candy as required by many schools or an awesome centerpiece for a Halloween school party.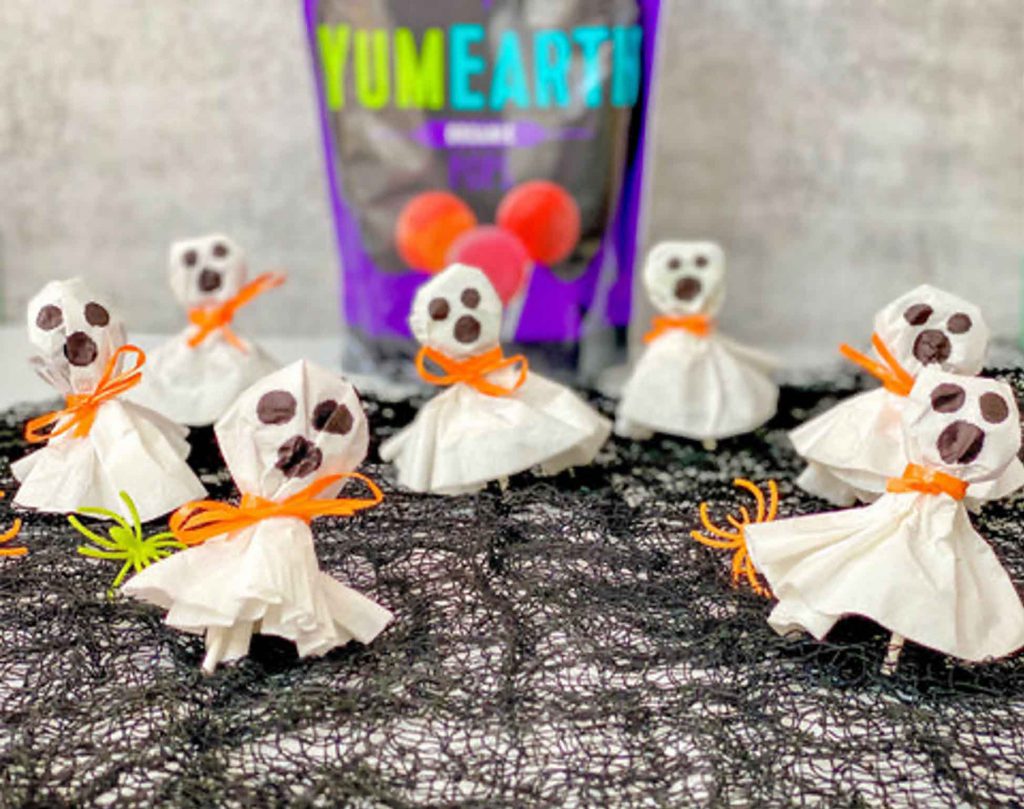 Supplies Needed for Coffee Filter Ghost Pops:
Coffee Filters (2 needed per ghost), Thin Ribbon, Black Sharpie, Scissors
YumEarth Halloween Lollipops (made with simple, organic ingredients minus the high fructose corn syrup, artificial dyes, and GMOs, but most importantly my kids love them, they are school safe and top 9 allergen-free!)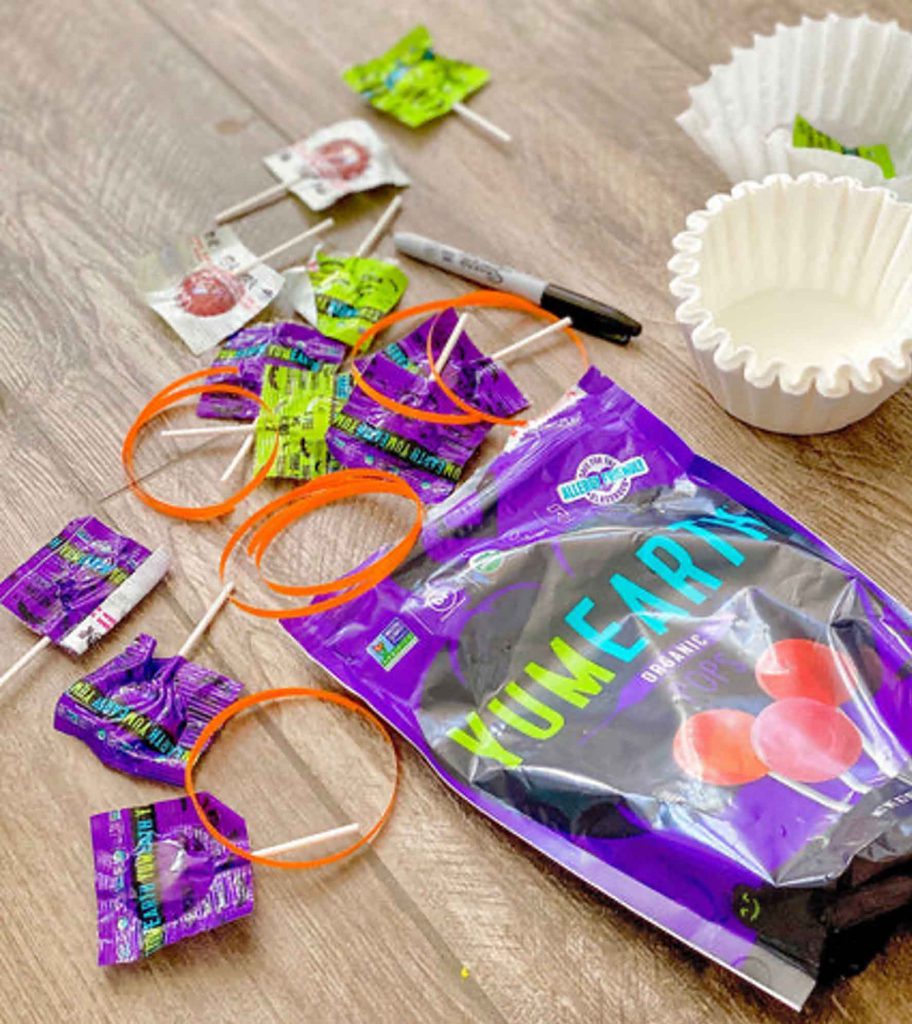 How to make a ghost pop:
Wrap 2 coffee filters over the lollipop
Secure them in place with the ribbon
Fluff up the coffee filters
Use a black marker to draw the ghost's face. Ta-da, done!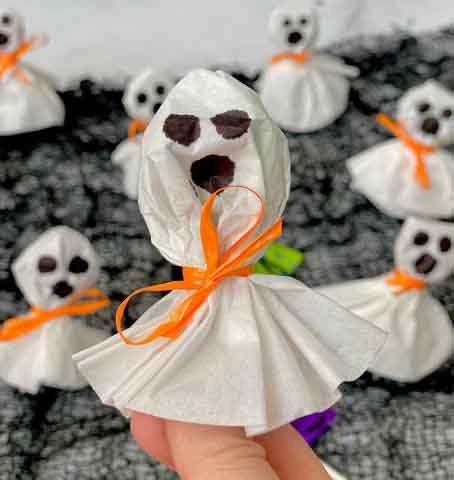 These ghost lollipops are SO quick and easy that you could probably whip out enough Halloween treats for an entire classroom on a Monday night while watching a single episode of The Bachelor. Just saying.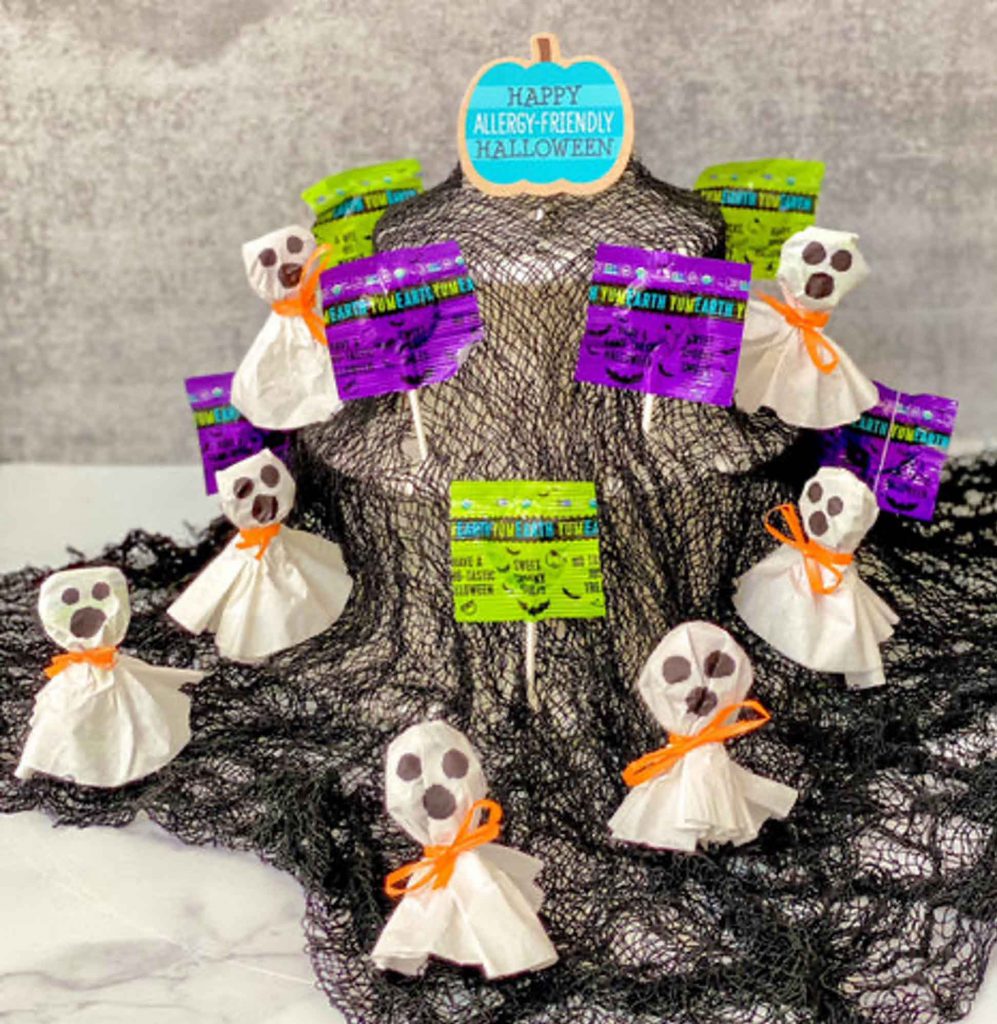 ---
Mini Boo Baskets
What does it mean to 'Boo' someone on Halloween? Booing is a fun and new tradition where you leave a basket of Halloween goodies on someone's doorstep in the weeks leading up to Halloween. It's a really great way to spread kindness and Halloween spirit throughout your neighborhood and community! We love to do our take on this where we make mini Boo Baskets for school so we can "Boo" everyone in class! It's similar to a Halloween goodie bag, but a little bit more fun!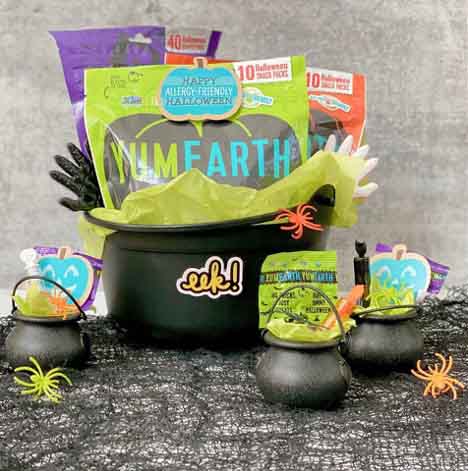 How to make a Boo Basket:
Choose some Halloween-themed mini buckets. Anything with a handle will work. I picked some mini witches' cauldrons and added a little green tissue paper for the "brew"
Pick a couple of non-food trinkets that kids would love! Target has a great selection of these for only $1. I grabbed some fun spider rings & Halloween bubbles. I always try to make these buckets at least ½ trinkets to stick to FARE's (Food Allergy Research & Education) advice for the Teal Pumpkin Project on having an allergy-friendly Halloween (click here to learn more about the Teal Pumpkin Project).
Fill up any leftover space in your boo buckets with treats that are free from the top 8 allergens.
YumEarth's Halloween candy selection is by far the best option there, and they are also free of artificial dyes and high fructose corn syrup. It's the perfect inclusive Halloween candy option for schools. The lollipops fit best in my mini boo baskets, so that's what I included here, but I love to give the large teacher's Boo Basket more options, so I included the YumEarth Halloween candy corn and YumEarth Halloween Gummy Fruits as well.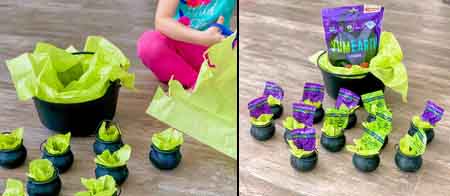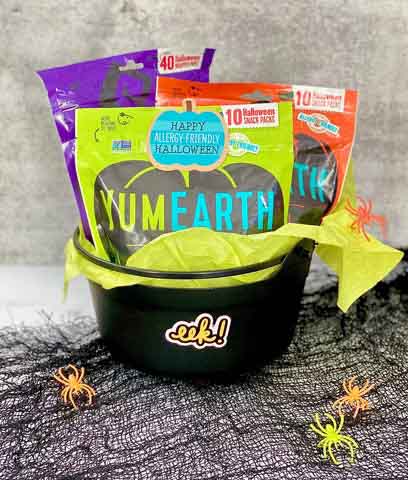 I hope you guys enjoyed reading my fun ideas for allergy-friendly Halloween treats for school parties! YumEarth has the perfect allergen-safe options for classroom activities, Halloween-themed lunches, and for handing out to trick-or-treaters! Be sure to check out my fun Halloween recipes, and don't forget to stock up on YumEarth organic Halloween candy treats online or find them at your nearest store now.