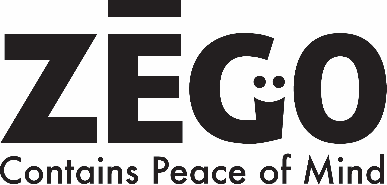 Feb. 13, 2018
For immediate release
For more information, contact
Colleen Kavanagh, 415.622.8115
colleen@zegosnacks.com
ZEGO Snacks Emerges as 'De Facto Leader in Allergen Transparency'
Allergy friendly ZEGO has shaken up the "free from" snack industry by combining superior flavor and nutrition with pioneering food safety not offered by any other company, leading Dave Bloom, founder of SnackSafely.com, to recently declare the company, "the de facto leader in allergen transparency."
Scott Elaine Wright-Case (co-founder VMG Partners), who is an investor and advisor for the company, sees it at the leading edge of the burgeoning "free from" movement, one of the highest growth consumer categories. ZEGO recently raised $500K in its seed round.
Colleen Kavanagh, ZEGO's CEO, spotted the "free from" trend early on when her children's elementary school banned all peanuts and tree nuts from campus, which 92% of elementary schools now restrict. None of the allergy friendly companies were dedicated to making superfood-based snacks that met all the dietary needs she and the other families had for conditions like diabetes, Crohn's and ADHD. So, she created ZEGO, for "ZEst on the GO." ZEGO is a certified as a B Corp, supporting projects that improve nutrition for low-income children through farmers' markets and schools as well as advocating that all companies should regularly test their products for pesticide and allergen residue to protect their consumers' health.
"Colleen was one of the first diagnosed cases of celiac disease in the 1980s and she has become a leading expert in safe food systems, state of the art testing, allergy-friendly ingredients and manufacturing processes. As a mother of children with food allergies and intolerances, she understands special diet food has to be more than just safe, it needs to taste great and provide unparalleled nutrition," said Wright-Case. "ZEGO's positioning, products and integrity are strong; all they need now is to continue building their dedicated fan base."
ZEGO's clean, superfood ingredients and delicious taste have broad appeal and its state-of-the- art "free from" features are particularly attractive to people with compromised immune systems due to allergies, intolerances or diseases. To better protect those customers' health, the company pioneered the Z-CODE food safety system, linking each package to its batch test results for cross contact. They also test for glyphosate (RoundUp) residue because glyphosate is suspected to cause symptoms similar to those of autoimmune diseases.
ZEGO will be sampling its nutrition bars and new line of "Mix-Ins" at Expo West booth #7103 and Fresh Pavillion #F144.