A critical shortage of important, life saving drugs. Sound familiar? It should, because allergic consumers have been scrambling for months to find EpiPens and the generic version of Adrenaclick, two of the three epinephrine auto-injector brands approved for sale in the US and currently in short supply. Both are manufactured by Pfizer who sources EpiPen for Mylan and the Adrenaclick generic for Impax Labs.
Now, many vital drugs are in short supply at hospitals across the country, sometimes forcing medical staff to substitute less effective drugs for those they would normally use but have run out of.

A
New York Times exposé published yesterday
points to one company at the nexus of the current shortage of hundreds of drugs:
One of the main companies that makes the drugs, Pfizer, has warned that manufacturing problems at some of its plants will lower supplies of many of its products — like morphine — until next year.
Though the article highlights problems that plague the entire industry, the Times goes on to describe the history of Pfizer's manufacturing issues in particular:
In February of last year, the Food and Drug Administration issued a warning letter to the company for problems at its plant in McPherson, Kan., one of several factories Pfizer took over after it acquired the injectable maker Hospira in 2015. The agency described the plant's manufacturing process as "out of control" and, among other problems, said Pfizer had not properly investigated complaints about vials that contained particles later identified as bits of cardboard. If injected, the agency said the contaminated vials could pose a "significant risk" to patients.
The Times' reporting calls into question the quality of all Pfizer's products and provides the backstory to the March 2017 recall of certain lots of EpiPen.
Taking all this news into perspective, we wonder why the FDA would allow a company with a problematic past to be the sole manufacturer for two of the three auto-injectors approved for the US Market.
We urge you to read the article to gain deeper insight behind the manufacturing problems leading to supply shortage of epinephrine auto-injectors in particular and important drugs in general: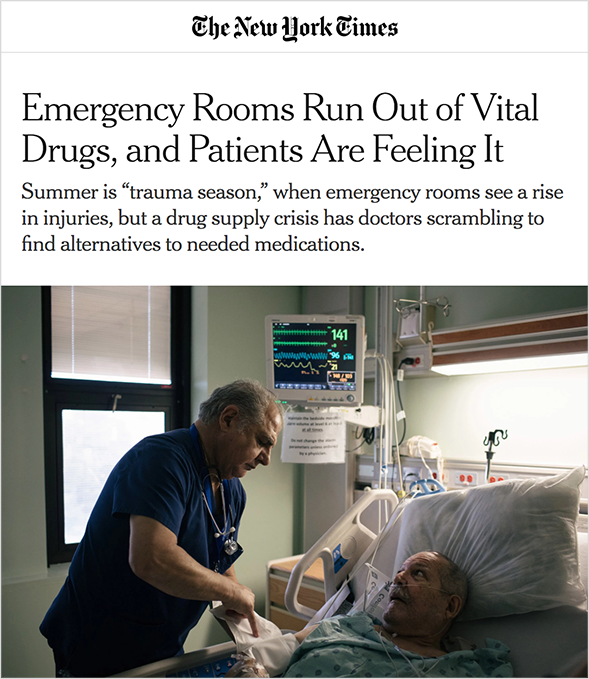 Note of Disclosure: Kaleo is a current and Mylan is a past advertiser on SnackSafely.com. The author's daughter carries both Auvi-Q and EpiPen auto-injectors.