Real Housewife Bethenny Frankel and her food allergies have been all over the news lately, starting with her anaphylactic reaction to fish that landed her in the ICU in December, her plane returning to the airport when the crew began serving fish, and her appearance on the Dr Oz Show last month culminating with a clueless Dr Oz stammering to answer questions on "Watch What Happens Now" about her allergies.
Whether you're a fan or not, Bethenny has a huge fanbase she is able to educate on matters of food allergy. Yesterday, she took a step by posting pictures of her skin prick tests as they were being performed in an allergists office.
According to FARE, food allergy symptoms are caused by the interaction between a food allergen and an antibody known as immunoglobulin E (IgE). To diagnose a food allergy, allergists frequently use skin prick tests to measure the presence of IgE antibodies for the suspect food.
During this test, the allergist places a drop of solution containing the food allergen on the forearm or back. Using a small plastic probe or needle, the doctor gently pricks or scratches the skin to allow a tiny amount of the solution to enter just below the surface. Skin prick tests are generally not painful and there is no bleeding. The scratching on the surface of the skin feels similar to a fingernail scratch.
Positive results generally appear within 30 minutes and are indicated by a wheal – a raised white bump surrounded by a small circle of itchy red skin. A large wheal is more likely to indicate a true food allergy, but size is not always an accurate predictor. If no wheal appears, it is unlikely that you are allergic to the test food.
Using Instagram on which she has over 2 million followers, Bethenny posted the following photos: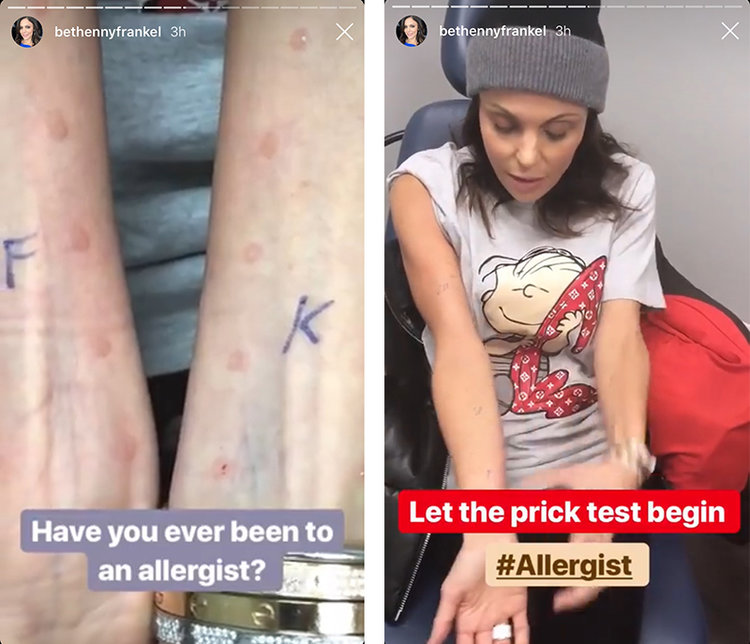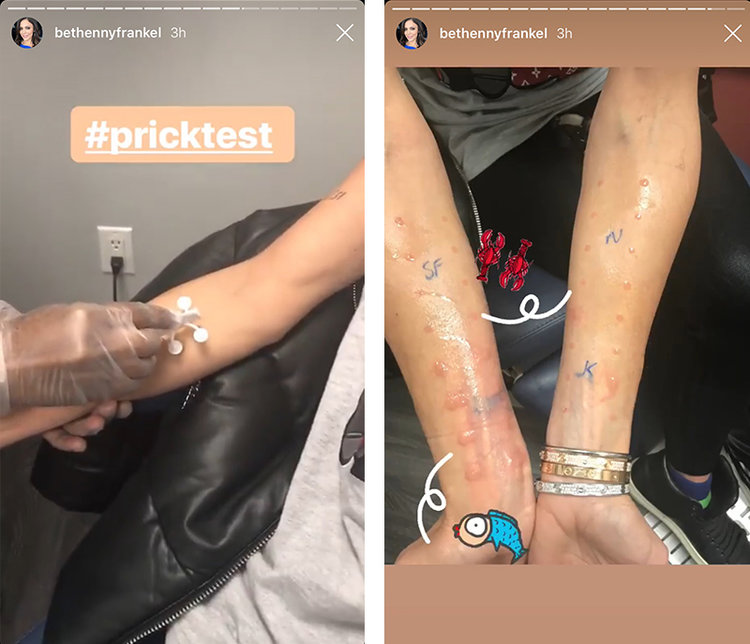 The photos show a calm Bethenny reasonably relaxed in the allergist's office having the test administered. From the added drawings, it appears she had positive reactions to fish and crustacean shellfish.
We at SnackSafely.com appreciate Bethenny's outreach. By sharing these photos she shows there is nothing to fear from these tests and her demeanor may encourage others to seek help with their suspected food allergies.