Seven month old Lofton Hyde of Denham Springs, LA, who was diagnosed with a milk allergy at birth, was participating in a Father's Day craft activity at his daycare.
The trouble started when a staff member dipped Lofton's feet into yellow Cra-Z-Art brand paint to make footprints for the craft. The boy immediately broke out in hives and became drowsy.
Lofton was rushed to the hospital where his mother is employed as a nurse. Doctors there administered drugs to ease his breathing and reduce his hives and swelling, and the boy was discharged six hours later after the symptoms had resolved.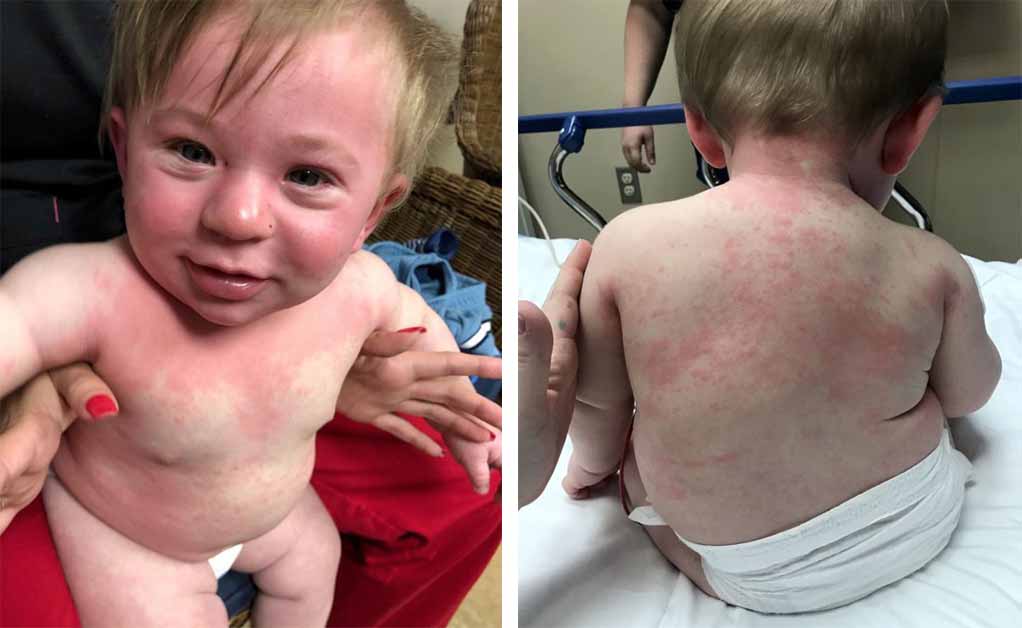 Lofton's parents claim the doctors had told them his reaction was caused by the paint and was linked to his milk allergy, and his mother claims he was not fed anything other than his dairy-free formula at the daycare.
Said Christen Hyde, Lofton's mother:
I don't blame the daycare – if it wasn't for their quick reactions, our son might not be with us today.

The fact my child is alive means more to me than anything in this world – I truly do not know what I would do if I ever lost my son.

Luckily after a couple of minutes and more medication he became more alert and all I could do was hold him in my arms, cry and thank God he was stable and alive.
A spokesman for Cra-Z-Art denied the product contains milk:
Our Washable Kids Paint in Yellow does not contain any dairy products.

The facility in which this paint was produced does not use dairy products in any of their production therefore there is no chance of cross-contamination.

After further testing, Lofton was confirmed as having a severe milk allergy. His parents have been instructed to carry epinephrine auto-injectors with them at all times.
---
We may never know for sure whether the paint was tainted by milk cross-contact, whether Lofton suffers from an undiagnosed allergy to another component of the paint, or whether some unknown trigger was responsible for the reaction.
We do know that skin contact with an allergen rarely results in anaphylaxis. According to Dr Scott Sicherer, Chief of the Division of Allergy and Immunology, Jaffe Food Allergy Institute, at the Icahn School of Medicine at Mount Sinai:
It's reasonable to assume that anaphylaxis from skin exposure is rare because the skin barrier prevents the protein from entering the blood system. Therefore, modest exposures on intact skin should not result in anaphylaxis.


Symptoms beyond the skin may be more likely if a large amount of protein is applied to large areas of non-intact skin, for example, skin with eczema rashes. Such exposures would be unusual (big splashes that soak clothing, etc.).
We also know that prompt administration of epinephrine when anaphylaxis is suspected leads to better outcomes. Be sure to take 2 epinephrine auto-injectors along everywhere… every time.