Aquestive Therapeutics presented findings from a Phase 1 study of AQST-109, their thin film formulation of epinephrine. The presentation was given at this year's annual AAAAI meeting taking place in Phoenix AZ.
AQST-109 is a polymer matrix-based epinephrine prodrug administered as a sublingual film that is applied under the tongue for the rapid delivery of epinephrine. The product is similar in size to a postage stamp, weighs less than an ounce, and begins to dissolve on contact. No water or swallowing is required for administration. The packaging for AQST-109 is thinner and smaller than an average credit card, can be carried in a pocket, and is designed to withstand weather excursions such as exposure to rain and/or sunlight.
AQST-109 seeks to address many of the perceived shortcomings of epinephrine auto-injectors including fear of the injection needle that can result in the delayed administration of epinephrine, incorrect use of the device that results in the proper dose not being administered, and mechanical failure.
Said John Oppenheimer, M.D., FAAAAI, Clinical Professor of Medicine at UMDNJ Rutgers:
[This presentation] provides the opportunity to share our first-in-human data for AQST-109 to the international allergy community. Dosing with AQST-109 resulted in PK and PD responses that were within the expected therapeutic range. This is the first time it has been demonstrated that epinephrine can achieve therapeutic blood concentrations following sublingual administration. AQST-109 shows promise as a viable alternative to injection for the management of anaphylaxis. I look forward to further evaluation of this investigational medicine.
Both PK (pharmacokinetic) and PD (pharmacodynamic) models provide insight into how a drug fares in the body including how long it takes to reach therapeutic levels as well as how long it remains in the body.
The trial tested multiple formulations of the candidate to see how they performed compared with EpiPen®, currently considered the standard of care.
All formulations were well tolerated with no adverse events reported.
Click here to see the poster accompanying the presentation providing detail of the trial: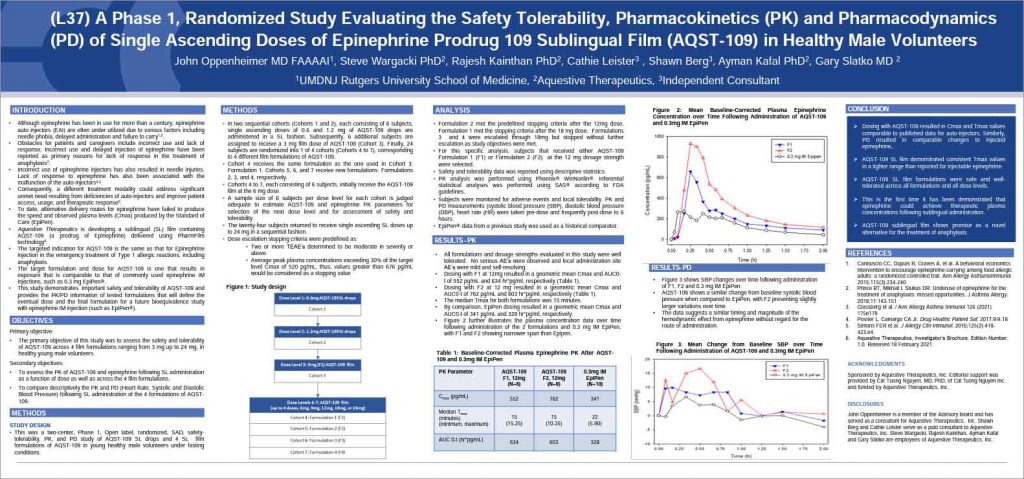 An Investigational New Drug Application (IND) for AQST-109 was opened by the FDA on February 24, 2022. Separately, Health Canada provided clearance to continue their adaptive design crossover study. The Company expects to move forward with the manufacture of registration batches and to conduct pivotal studies for AQST-109 in 2022.
Sublingual Emergency Epinephrine Takes Another Step Forward in Phase 1 Study