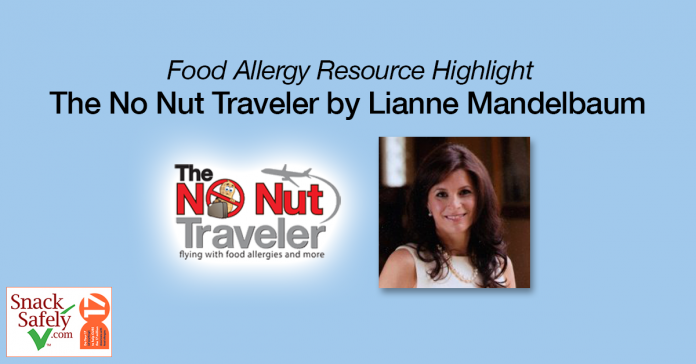 This article highlights a resource that provides inspiration and valuable services to the food allergy community. We pledged to highlight 17 such resources for End Allergies Together's 2016 #DoYour17 campaign. You can still consider sponsoring our effort with a pledge. E-A-T is underwriting all costs so 100% of your donation goes toward funding research into a cure for food allergy.
Traveling with food allergies is difficult enough. Flying with food allergies can often be a nightmare, with peanuts, tree nuts, milk, and other foods distributed throughout the cabin, traces of allergens on all surfaces, and no reliable access to epinephrine other than the supply you've brought along. And if there should be an anaphylactic emergency, the time to reach a hospital could be measured in hours.
That's where Lianne Mandelbaum comes in. Lianne, the mom of a son with a severe peanut allergy, is the leading advocate for food allergy safety when it comes to air travel, and her site, The No Nut Traveler, is a compendium of articles regarding airline policies related to food allergies. Before you book that next flight, check out the site.
While you're there, be sure to sign her petition demanding a bill of rights for air travelers with food allergies, which as of this writing has garnered over 80,000 signatures. You can also share your air travel stories and help foster change in the industry.
To learn more about Lianne and The No Nut Traveler, visit the site: nonuttraveler.com.
Other food allergy resource highlights in this series: