Today, Enjoy Life Foods – charter members of our Manufacturer Partnership – announced the first new addition to their extensive free-from product family in over a year: a line of delicious, bite-sized cookies!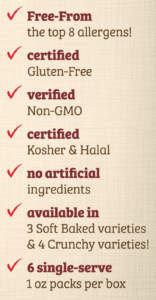 The new "Minis" include three soft baked varieties – Chocolate Chip, Double Chocolate Brownie, and Snickerdoodle – as well as four crunchy varieties: Chocolate Chip, Double Chocolate, Vanilla Honey Graham, and Sugar Crisp. These Mini's come in 1oz single-serve packs, six per box, perfect for school lunches, parties and after-school snacking.
In keeping with their "Always Free-From" promise, Enjoy Life Mini Cookies are certified gluten-free and free from the top 8 allergens, and they're certified kosher and halal, verified non-GMO, and contain no artificial anything!
Though you'll find them on store shelves soon, you can purchase them now at Enjoy Life's online store. Do so before July 25 and use the code "MINIFREELY" and it's buy one get one free!