DBV Technologies, developers of the Viaskin® patch system for Epicutaneous Immunotherapy (EPIT), assembled a team of some of the most well-respected names in immunology to present data from their ongoing work at this year's American Academy of Allergy, Asthma & Immunology (AAAAI) annual meeting in Los Angeles.
The report of DBV's work with EPIT, in which minute quantities of an allergen are introduced at the top layer of the skin where they induce changes to the immune system over time, is extraordinarily encouraging.
The presentation was delivered in four segments:
Christophe Dupont, MD, PhD of Necker Hospital in Paris, gave an overview of the need for a viable food allergy therapy, the Viaskin platform and progress toward a peanut therapy;
Kari Nadeau, MD, PhD of Stanford University discussed the patient and physician experience regarding the peanut allergy clinical trial;
Jonathan Spergel, MD, PhD of the Children's hospital of Philadelphia discussed the development and progress of Viaskin's milk allergy patch and how it relates to Eosinophilic Esophagitis (EoE);
Hugh A Sampson, MD, director of the Jaffe Food Allergy Institute and Icahn School of Medicine at Mount Sinai discussed future directions with EPIT.
Here are our takeaways from the presentation:
The need is clear
The incidence of food allergy has exploded over the last decade and half and the need for a safe and effective treatment is critical.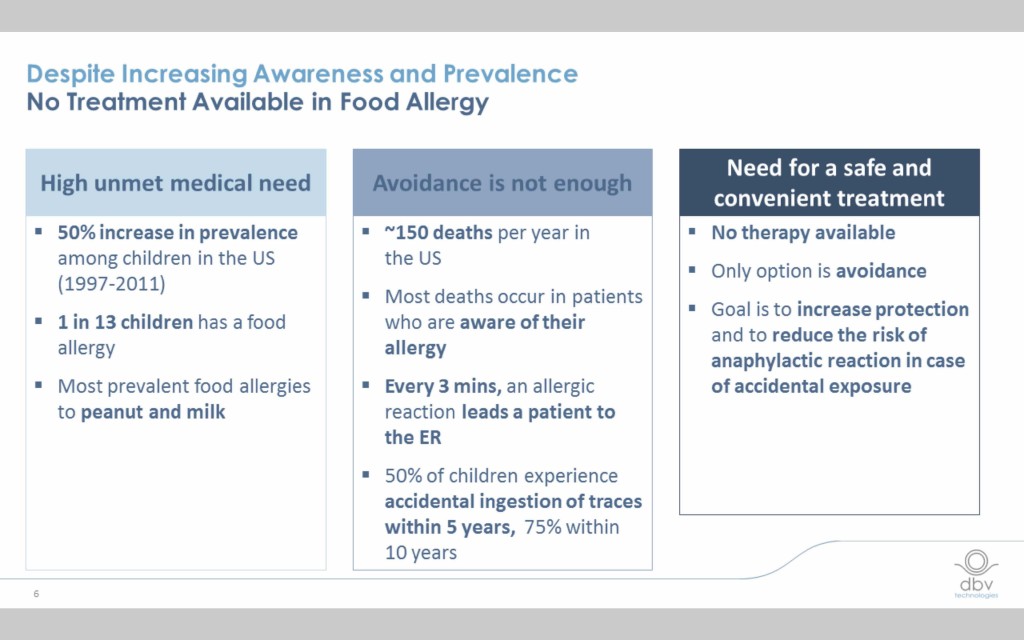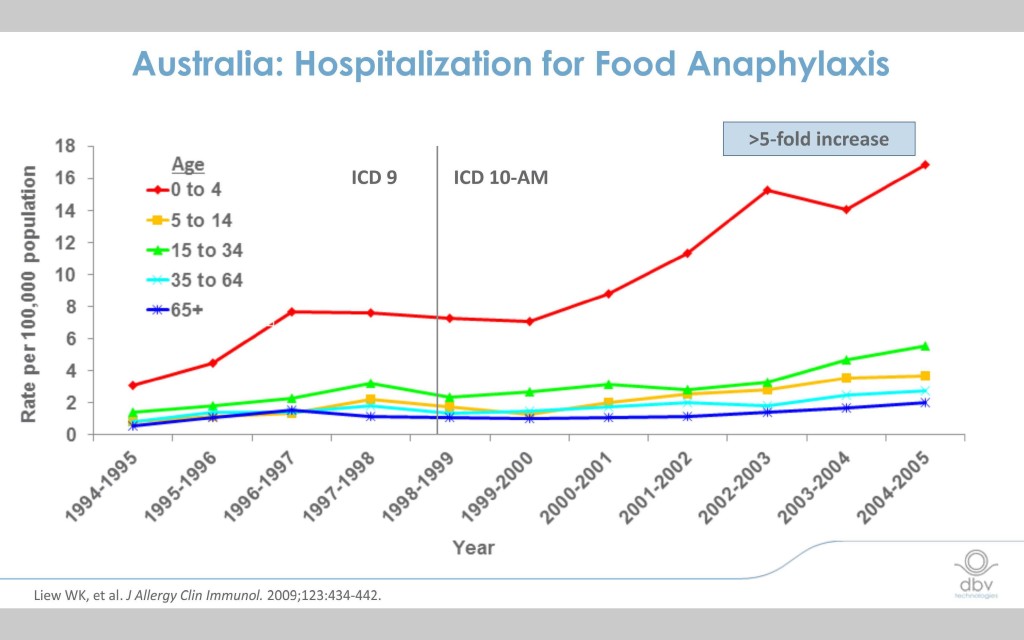 Current food allergy immunotherapies have limitations
A number of investigative immunotherapies for food allergy are under way, many with high rates of adverse reactions, limited evidence of clinical benefit, or associated with the trigger of the onset of Eosinophilic Esophagitis (EoE).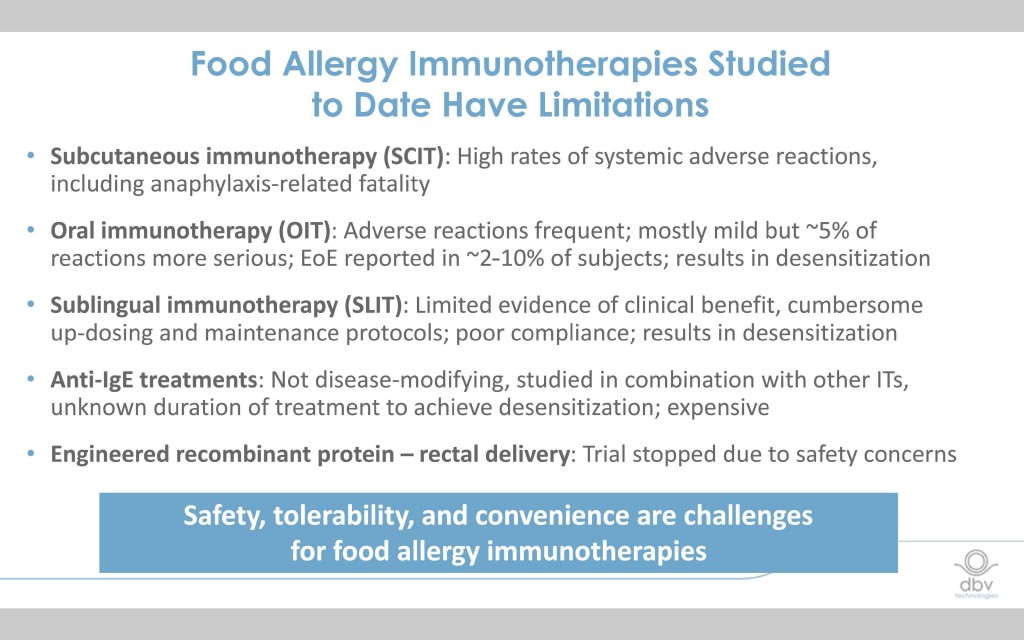 The EPIT mechanism is different from other forms of immunotherapy
EPIT in general and the Viaskin patch in particular employ a unique way of inducing desired changes in the immune system (immunomodulation) that differs from other forms of immunotherapy. Minute quantities of the allergen are delivered to the epidermis where Langerhans cells react with them and are subsequently transported to the lymph nodes. At no point does the allergen enter the blood stream or gastrointestinal tract, which may explain why the therapy is so well tolerated.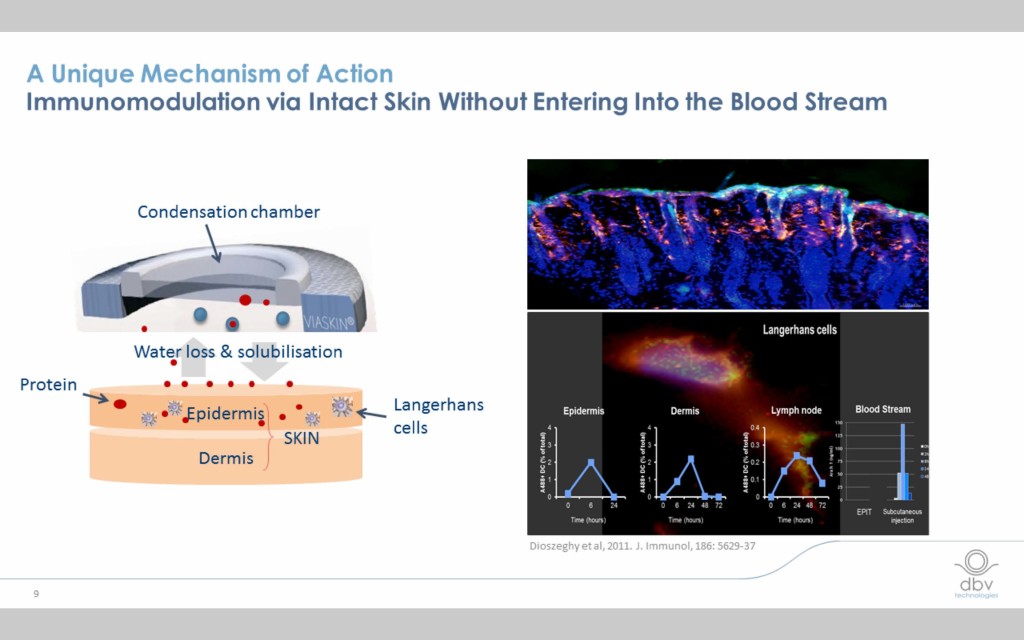 Viaskin is designed to be easy to administer for people of all ages
The patch is entirely self contained and is easily applied to the skin on the arm or back once-per-day with a self-adhesive. The used patch is easily removed and discarded.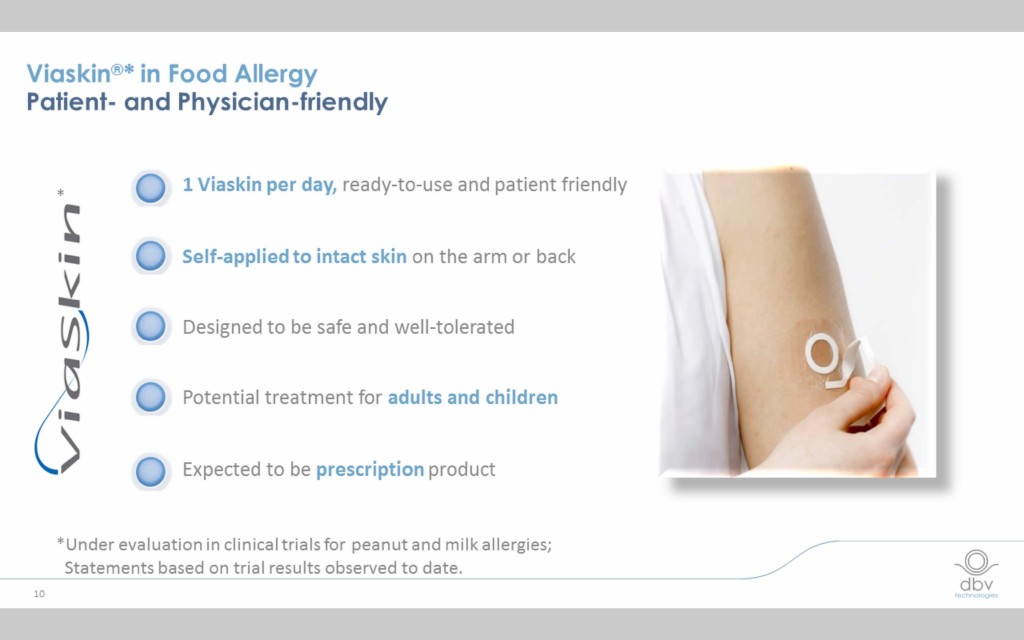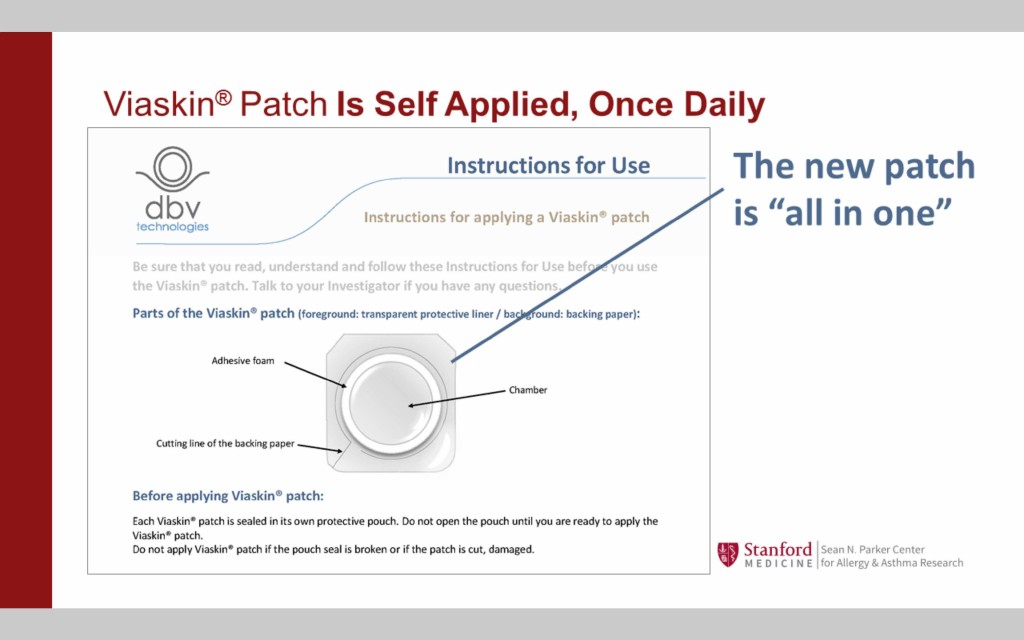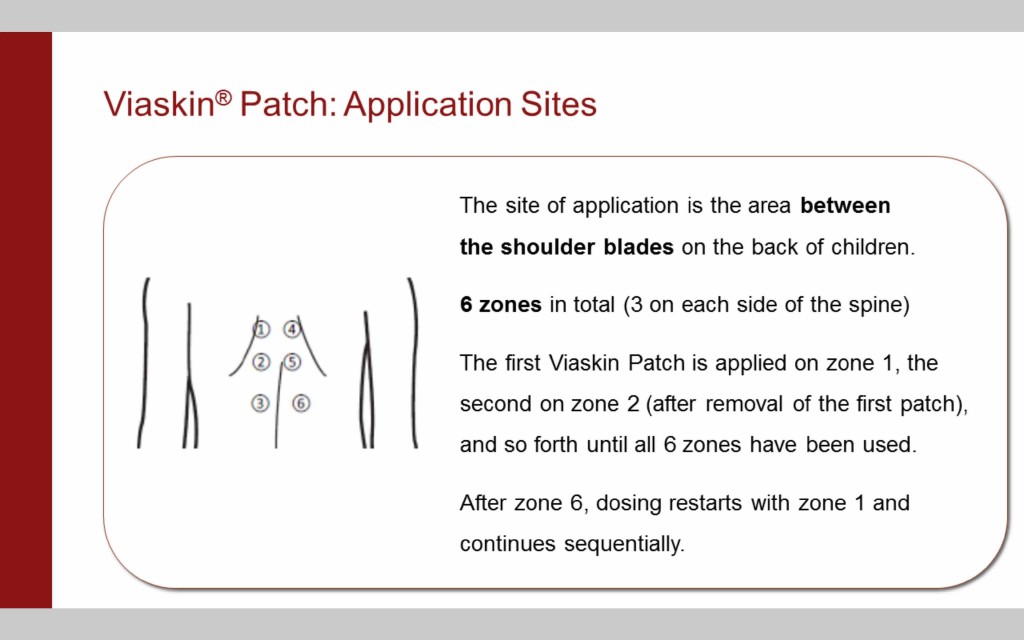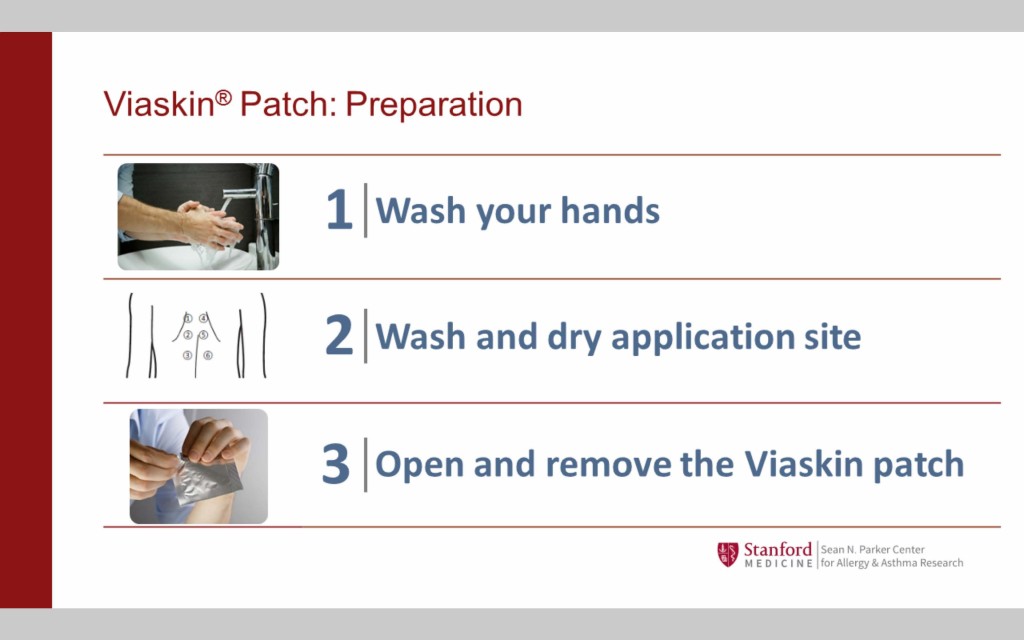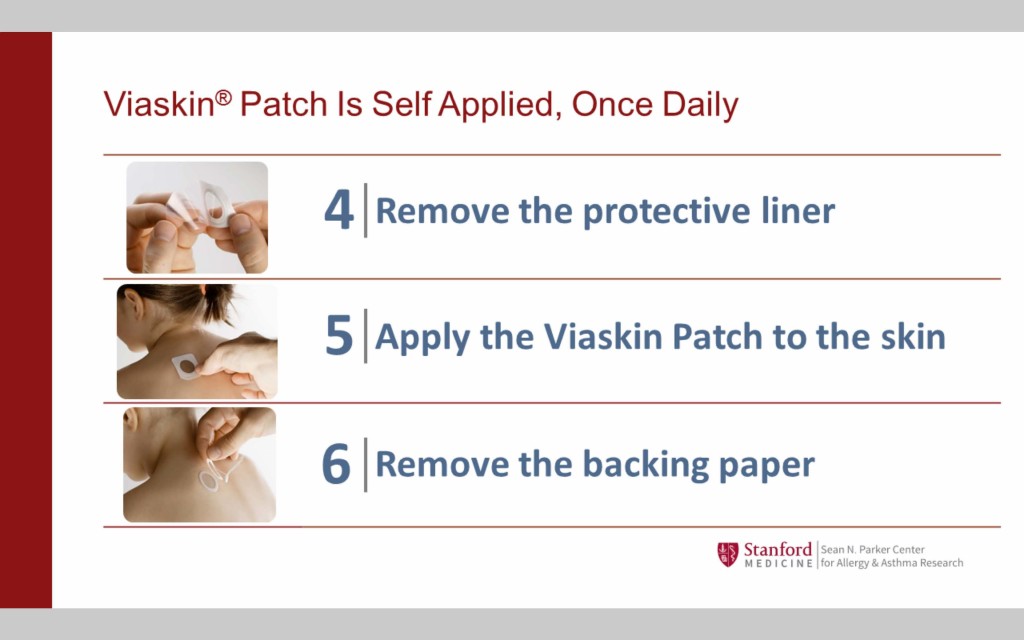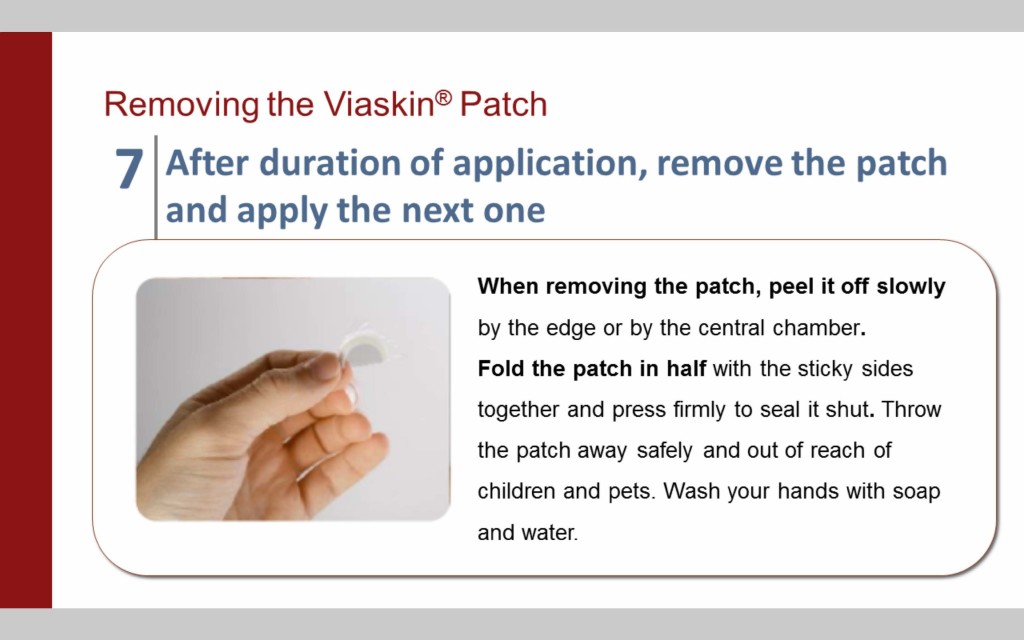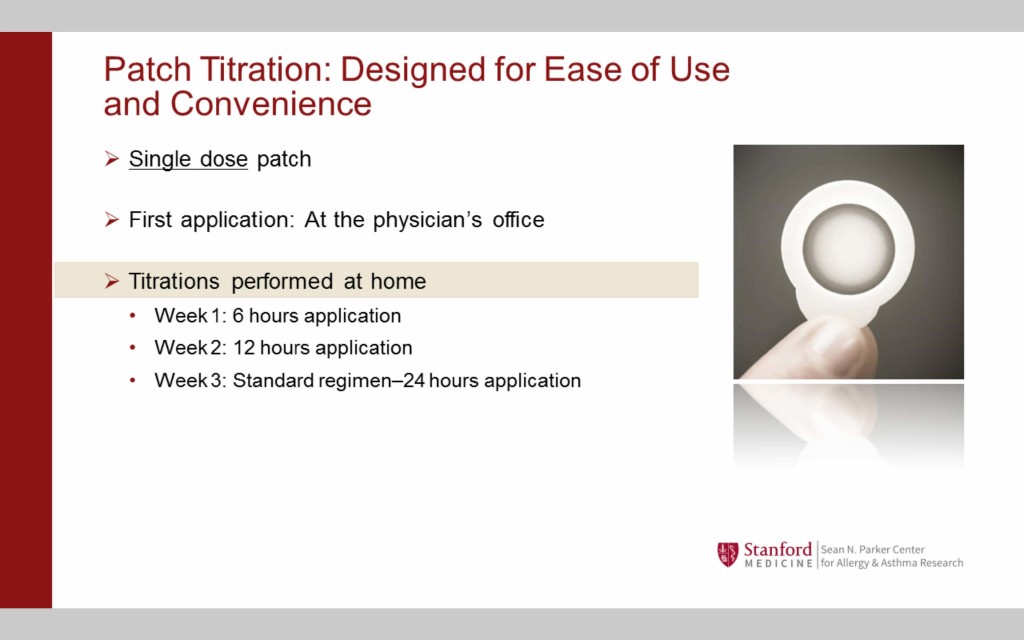 Viaskin therapies for three allergens are currently in the pipeline
While the peanut therapy has received "breakthrough therapy" designation from the FDA and is starting Phase III clinical trials, a milk therapy is starting Phase II trials and an egg therapy is currently in pre-clinical trials in anticipation of beginning Phase I trials.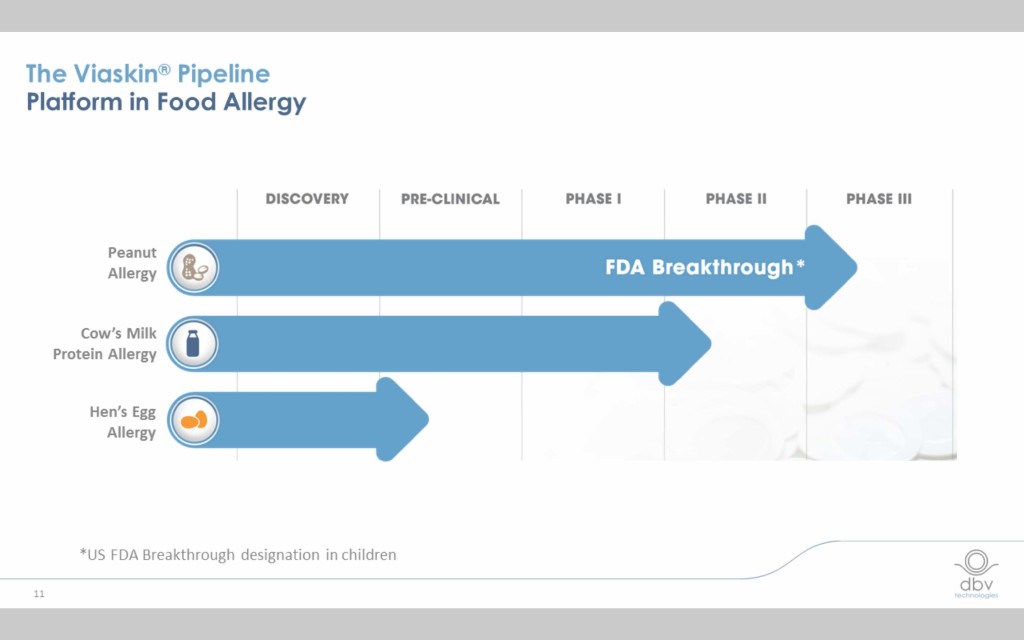 The Viaskin Peanut therapy has a robust set of clinical data behind it
Over 450 patients have been treated in 5 clinical randomized, placebo-controlled, multicenter clinical trials. Phase III trials expect 330 participants.
Phase I trials tested 3 doses of the patch (50, 100, 250µg) against a placebo on 100 subjects 6-50 years of age.
Phase II placebo-controlled trials tested 221 patients in the US, Canada, France, Poland, and the Netherlands, roughly half 6-11 years of age and half adolescents and adults 12-55 years old, followed by an open label trial of 171 patients.
The Viaskin Peanut therapy is safe and well tolerated
No use of epinephrine was necessary during the Phase I and II trials related to the use of Viaskin Peanut, and no severe adverse effects (SAEs) were reported.
Two people withdrew from the Phase II trials due to dermatitis, but the remaining subjects that reported reactions had mild or moderate reactions that resolved quickly and decreased over time.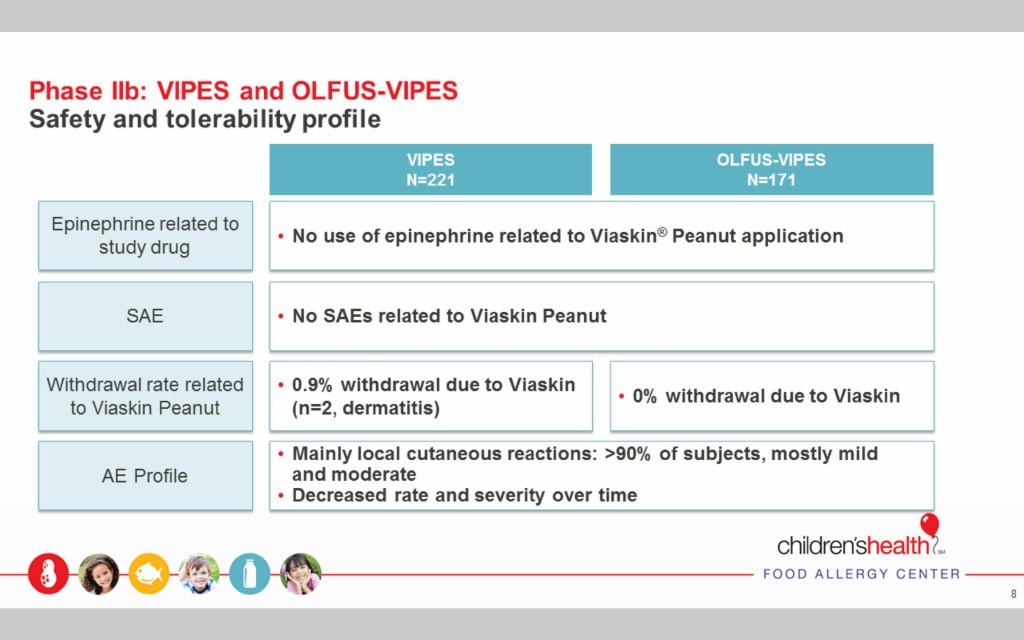 The Viaskin Peanut therapy elicited desired immunological changes
After the first year of treatment in children ages 6-11, two immunological responses indicate the treatment had the desired effect. Peanut specific IgE, which indicates a short-term response to an allergen, returned to the baseline at the beginning of the study prior to treatment, showing that the body's reaction to the allergen decreased over time.
Peanut-specific IgG4, which indicates a protective immunological change, increased dramatically over the first year of treatment, especially in the case of the 250μg dose.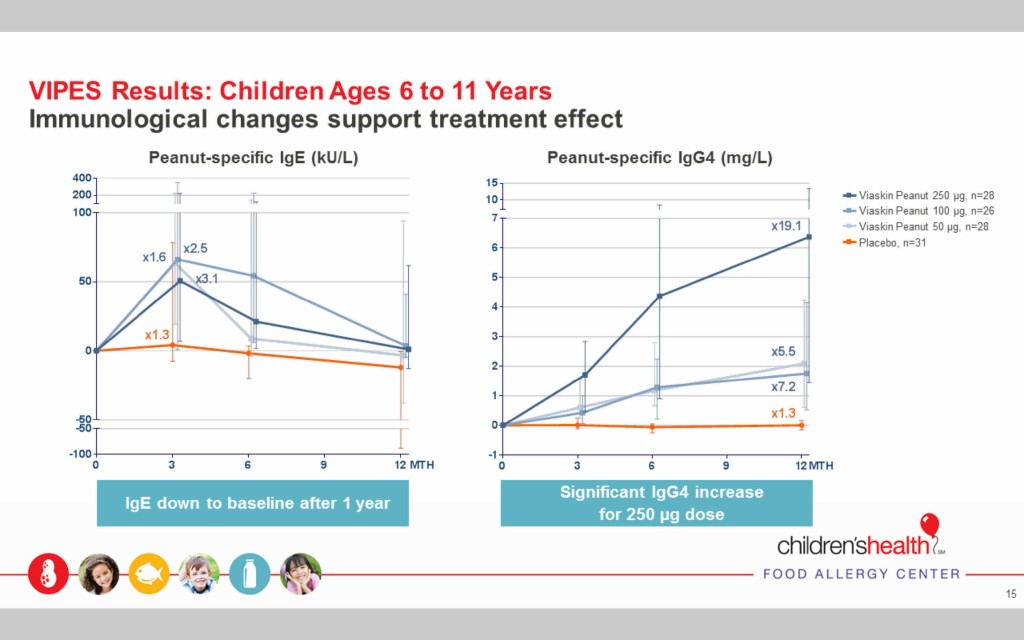 Milk allergy is serious
After peanut, cow's milk allergy is the next most common cause of anaphylaxis and fatalities, responsible for 40% of accidental reactions over a one-year period.
Current milk OIT therapies are associated with high rates of adverse reactions and possible EoE complications.
Common side effects of Oral Immunotherapy (OIT) include urticaria (hives), angioedema (swelling under the skin), gastrointestinal and respiratory symptoms.
Milk, egg, and peanut OIT are associated with an increased risk of triggering Eosinophilic Esophagitis (EoE) which occurs in an estimated 5-15% of treated patients.
Viaskin Milk is beginning Phase II studies for milk allergy and EoE
The Phase I trial of 18 subjects conducted at 7 sites produced no SAEs, no need for epinephrine, and no early withdrawals from the study. 11 subjects reported mild or moderate events which resolved quickly. The therapy is entering Phase II trials as treatment for both cow's milk allergy and EoE.
Conclusions
The following conclusions were provided at the close of the presentation:
Food allergies pose a significant burden, with increasing prevalence and a substantial impact on Quality of Life;
There are currently no approved treatment options for food allergy and avoidance is the only option;
In clinical trials, Viaskin has demonstrated a good safety profile, provides a convenient mode of application with greater than 97% compliance, and has demonstrated promising efficacy;
Viaskin may be a good candidate for preventative therapy.
We at SnackSafely.com are cautiously optimistic that a safe, effective, easy to administer treatment may be on the horizon and wish the researchers and subjects investigating the Viaskin family of treatments godspeed.
Please let us know if you or a family member are participating in any of the Viaskin studies as we would like to publish get your first hand account of the experience.
Note: We will provide a link to a recorded video of the presentation once it is made available.